Silhouette Instalift
NON-SURGICAL FACial contouring FOR NATURAL-LOOKING RESULTS
Your face defines how you look and expresses how you feel. At the Center for Plastic Surgery, we offer a way to achieve a natural-looking, more youthful appearance without requiring surgery. Silhouette Instalift™ is a minimally invasive solution for mild to moderate skin laxity in the face. It is perfect for patients who don't want a traditional facelift or downtime associated with surgery, delivering lasting results you begin to see immediately.
Please view Dr. Eliopoulos' before and after results. These are actual patients.
NON-SURGICAL FACial countouring MA
To learn more about Silhouette Instalift at the Chelmsford, Massachusetts Center for Plastic Surgery, contact Dr. Dina Eliopoulos. She is committed to delivering a higher quality of patient care while using state of the art treatments to help patients achieve their aesthetic goals.
Non-invasive Facial Contouring
Video: Facial Aging
Time, gravity and sun damage all contribute to facial aging. The signs include skin laxity and loss of fat and volume in the cheeks, which can accentuate the folds that run from the nose to the mouth, the mouth to the chin and looseness in the jawline. Dr. Eliopoulos offers many cosmetic surgery options that can offset the signs of facial aging and give you a more youthful appearance.
Enlarge
View All
Facial aging is a fact of life, and the signs of aging can make you look older than you feel. Thankfully, cosmetic technology has advanced so that it is easier than ever to counteract the effects of time, which most often manifest themselves as wrinkles, skin laxity, and loose or saggy skin. Dr. Eliopoulos and the Center for Plastic Surgery is proud to offer one of the most effective non-surgical facial recontouring techniques available in the United States. The Silhouette Instalift procedure is a great non-surgical option for Boston plastic surgery patients who don't want to undergo surgery for a traditional facelift. We also feel that this procedure is a perfect complement to our numerous facial rejuvenation treatment options such as Botox, injectable fillers, advanced laser treatments and medical grade skin care.
The Silhouette Instalift Procedure
The procedure is effective because it focuses on re-contouring the face by repositioning the deeper layers of skin, without going so deep as to require surgery and weeks of downtime. The treatment is comfortable and typically takes 45 minutes, with results that are visible immediately and tend to improve over a span of three months.
The procedure begins with marking the areas of treatment to achieve the desired lift. For example, our goal may be to lift and smooth the appearance of skin laxity along the jawline or reposition and improve the cheek contour that has fallen with time and volume loss. Small pinpoint areas on the midface, which will serve as entry points for the suture, are numbed with injected anesthetic to allow for a comfortable procedure. The suture is then inserted at a depth of 5mm, gently guided through the subcutaneous tissue and extracted at a specific exit point. Once sutures are placed, the absorbable cones on the suture are engaged into the subcutaneous tissue, acting as anchors for your new facial silhouette.
While some mild swelling or redness may occur for a few days after the procedure, you can return to a modified routine, avoiding strenuous exercise and extreme facial movements, immediately.
What to Expect in a Consultation
Dr. Dina Eliopoulos has nearly 2 decades of experience as a board-certified plastic surgeon, with a reputation for dedication, surgical excellence, and professionalism. The purpose of her consultation is not to "convince you" to undergo a procedure, but to learn about your goals and educate you on your surgical options.
Schedule a Consultation Today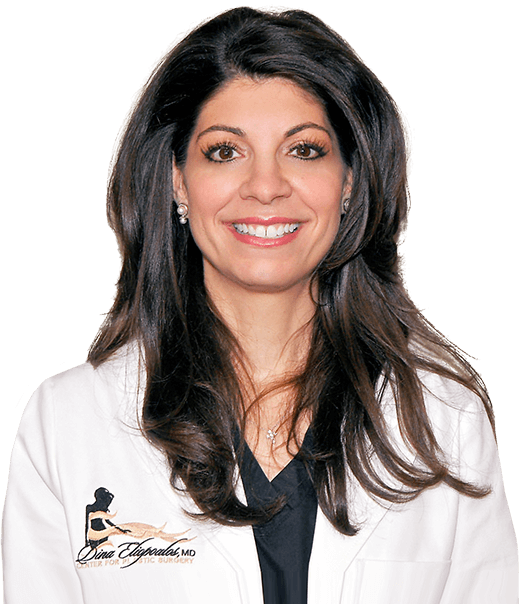 "I came the Center for Plastic Surgery for a procedure in the summer. It was successful, painless, and accomplished exactly what I wanted." June Bowser-Barrett, Age: 68, Writer/Teacher
The Advantage of a Non-Surgical Facial Contouring Procedure
At the Center for Plastic Surgery, we choose to offer Silhouette Instalift because we believe the design of the cones and the strategic placement on the suture helps to engage more facial tissue. These dissolvable cones allow us to create a more substantial lift and repositioning to the skin. Dr. Eliopoulos believes Silhouette Instalift is superior to other kinds of thread lifts for several reasons:
The sutures and cones are made from a biomedical co-polymer that the body tolerates extremely well
Your body will naturally absorb the sutures, which adds to their safety and decreases the risk of complications
This same material stimulates production of collagen, which aids in renewal of healthy skin, adding volume along with repositioning the skin. Silhouette Instalift focuses on underlying layers of the skin where sagging skin starts. As the sutures are absorbed over time, collagen is stimulated leaving you with natural, long-lasting results.
To learn more about Silhouette Instalift from Dr. Dina Eliopoulos in Chelmsford, MA, please contact us. You can also take a look at our before and after gallery for results of our various procedures.