Dr. Dina Eliopoulos
Excellence in Cosmetic Surgery Performed with a Woman's Touch
Board-certified Plastic Surgeon
Over 20 years of experience in Chelmsford, MA
Reputation for exceptional care, surgical excellence
Member of four prestigious plastic surgery societies
Compassionate, discreet, understanding
Meet Dr. Dina Eliopoulos
Video: Dr. Dina Eliopoulos
Board certified in plastic surgery, Dr. Dina Eliopoulos was pleased to be able to establish her practice in her own hometown in 2000. She loves her work, finding it uplifting to help local patients achieve their cosmetic goals. She especially enjoys seeing the positive impact on their lives when patients are so pleased with their results. Dr. Eliopoulos appreciates her staff, who she says work great as a team, putting patients at ease and remaining attentive to their needs every step of the way.
Enlarge
View All
"Plastic surgery was the perfect and natural choice for me as I progressed through my surgical training. I have a true passion for this specialty, which allows me to combine my artistic talents with my fine attention to detail to help my patients achieve the most natural and aesthetic result from their surgery."
As a native of Chelmsford with strong family ties to the area, Dr. Eliopoulos was eager to establish her practice here. She founded the Center for Plastic Surgery in 2000, and she has been committed to providing excellent care and quality service to her patients and the community ever since.
Education and Residency
Dr. Eliopoulos's exceptional education and training has enabled her to excel in her field. After completing her undergraduate studies at the College of the Holy Cross with a BA in Chemistry, she obtained her medical degree from the University of Massachusetts Medical School.
Following this, her extensive training included a five-year residency in General Surgery at the State University of New York Health Science Center in Syracuse, New York, followed by a two-year residency in Plastic Surgery at the Medical College of Georgia, and an Aesthetic and Breast Surgery Fellowship at the Charlotte Plastic Surgery Center in North Carolina.

Board Certification
Dr. Eliopoulos is certified by the American Board of Plastic Surgery and ABMS (American Board of Medical Specialties) Maintenance of Certification, a member of the American Society of Plastic Surgeons, a member of the American Society for Laser Medicine and Surgery, and a member of the Massachusetts Society of Plastic Surgeons.
She is also a member of the American Society for Aesthetic Plastic Surgery, which is the leading organization of American Board of Plastic Surgery certified surgeons specializing in cosmetic surgery of the face and the entire body.
Personal Touch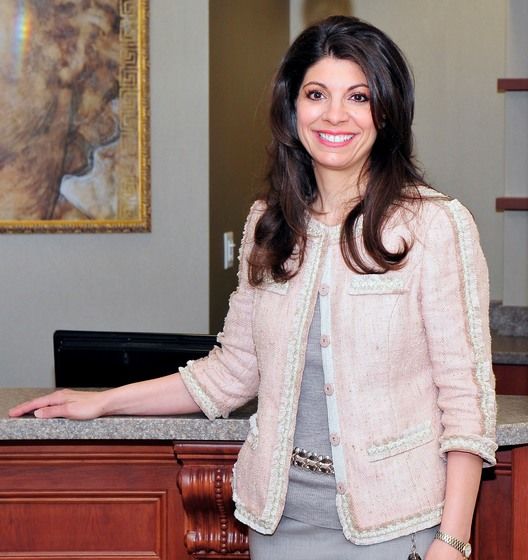 Dr. Eliopoulos is recognized for her surgical excellence and professionalism, combined with her genuine and caring personality. She is not only an excellent technician, but also an excellent listener, which allows her to truly understand what her patients are looking for.
Dr. Eliopoulos prides herself on her meticulous work and an eye for symmetry. She has a busy cosmetic practice, and offers aesthetic surgery of the breast, body and face with an emphasis on beautiful, natural-looking results. She also enjoys the reconstructive side of her practice, which includes breast reconstruction and treatment of skin cancers.
Dr. Eliopoulos feels very strongly about spending substantial time with her patients—both to learn exactly what they hope to accomplish through surgery, and to educate them on exactly what will take place.
By providing patients with sufficient information on the postoperative course, including possible risks and benefits of surgery, her patients can confidently make an informed decision to proceed with surgery.
Hospital Affiliations:
Lowell General Hospital
295 Varnum Ave
Lowell, MA 01854
Lowell General Surgery Center at Drum Hill
10 Research Place, Suite 202
North Chelmsford, MA 01863