Skin Care
Products
Reverse the Effects of Time
It is natural to be concerned about scars. Scars were named as one of the top 5 concerns of people considering cosmetic surgery.
All surgeries will create scars, but you have options to ensure that your scar will be barely noticeable. Dr. Eliopoulos has a wide range of physician-strength skin care products available for post-operative care.
Anti-Aging Skin Care Products
Dr. Eliopoulos strives to create the best scar result by strategically placing your incisions and using special suturing techniques. Contact Dr. Eliopoulos at her Chelmsford Center for Plastic Surgery, serving upper Massachusetts and lower New Hampshire. Dr. Eliopoulos is dedicated to delivering exceptional results with an unmatchable quality of patient care.
ZO Skin Health
ZO Skin Health, Inc. develops and delivers innovative skincare solutions that optimize skin health based on the latest advances in skin therapy technologies, unique delivery systems, bioengineered complexes and exclusive formulations. By providing comprehensive skincare programs for physicians and their patients, ZO Skin Health, Inc. bridges the gap between therapeutic treatments and daily care, allowing patients to experience continuously healthy skin regardless of their age, ethnicity or unique skin condition.
Alastin Skincare
Alastin Skincare is a leading brand in the skincare industry, offering innovative products that deliver real results. Their products are specifically formulated to target a range of skin concerns, from fine lines and wrinkles to uneven skin tone. Their unique formula is based on cutting-edge research and technology, making Alastin Skincare a must-try for anyone looking to rejuvenate and revitalize their skin. Visit our Alastin store today and experience the power of Alastin Skincare for yourself. Discover the difference it can make in your skin's appearance and feel confident in your own skin.
What to Expect in a Consultation
Dr. Dina Eliopoulos has nearly 2 decades of experience as a board-certified plastic surgeon, with a reputation for dedication, surgical excellence, and professionalism. The purpose of her consultation is not to "convince you" to undergo a procedure, but to learn about your goals and educate you on your surgical options.
Schedule a Consultation Today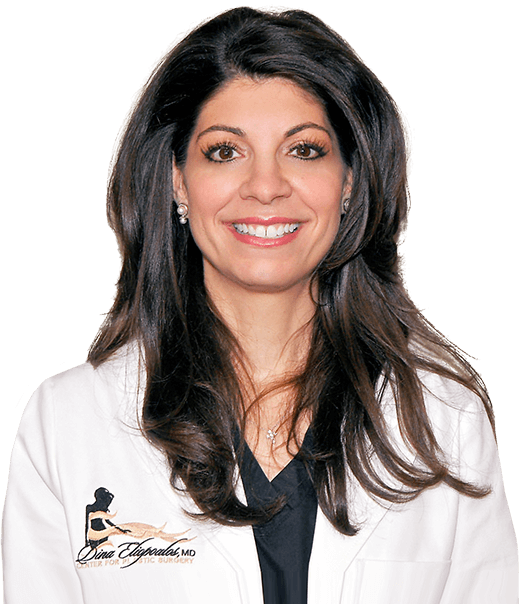 "I LOVE these skin products — I have had sooo many comments on my skin looking "flawless". I've never had anyone ever comment on my skin. Thank you so much for helping me get on board with these products." Erin, Reading

Silagen Silicone Gels and Sheets
Silagen silicone gels and sheeting are made with the highest quality medical grade silicones. The silky feel of Silagen gels won't leave a wet, sticky mess on your skin like other gels do. This gel is non-comedogenic and non-irritating. The Silicone Gel Sheeting are 1mm thick, strips and shapes featuring an advanced adhesion technology, allowing them to conform well to the body and still be durable enough to last for up to 4 weeks.
How does Silagen work?
Silagen gels and sheets create a protective barrier over the scar, which increases hydration and helps stop excessive collagen build up. This will help flatten and soften your scar, reduce redness, itching and pain. The sunscreen in Silagen Silicone Gel + SPF30 helps to protect your scar from hyperpigmentation, an often permanent darkening of the scar caused by the sun.
Eyelash Enhancing Products
Not only do beautiful eyelashes camouflage the signs of aging, but they also enhance the eye's natural beauty. RevitaLash ADVANCED is a wonderful cosmetic product containing powerful peptides and soothing botanicals designed to beautify and nourish the eyelashes. This product was developed by an ophthalmologist to give his wife's eyelashes the look of renewed health, strength, and beauty after she had undergone intensive chemotherapy which left her lashes fragile, sparse and thin. All you need to do is apply a small amount above the upper lash line nightly and watch your eyelashes achieve there full potential!
Latisse is an eyelash treatment available as a monthly prescription from Dr. Eliopoulos which also can enhance the appearance of your lashes, making them appear thicker, fuller, and darker.
What woman doesn't want fuller eyelashes?