Skin Care
Products
Reverse the Effects of Time
It is natural to be concerned about scars. Scars were named as one of the top 5 concerns of people considering cosmetic surgery.
All surgeries will create scars, but you have options to ensure that your scar will be barely noticeable. Dr. Eliopoulos has a wide range of physician-strength skin care products available for post-operative care.
Anti-Aging Skin Care Products
Dr. Eliopoulos strives to create the best scar result by strategically placing your incisions and using special suturing techniques. Contact Dr. Eliopoulos at her Chelmsford Center for Plastic Surgery, serving upper Massachusetts and lower New Hampshire. Dr. Eliopoulos is dedicated to delivering exceptional results with an unmatchable quality of patient care.
Facial Skin Care Products Massachusetts - SkinMedica
SkinMedica skin care products help diminish signs of aging and contribute to the post-surgery recuperative process. With medical-grade products specifically tailored for different areas of the body, including the face, eyes, lips, body, neck and décolleté, SkinMedica gives you targeted treatments to help you look your best. Below are just some of the products we are able to offer — Shop Now for the complete collection.
TNS Essential Serum
This unparalleled anti-aging serum is the first to combine the renowned growth factor serum, TNS Recovery Complex in one chamber and APS Corrective Complex, a potent mixture of antioxidants, peptides and other innovative anti-aging ingredients, in the other chamber. Together these products work synergistically to transform and regenerate your skin for a more youthful appearance. You will notice an improvement in the appearance of fine lines, wrinkles and the overall tone and texture of your skin. It rapidly smoothes and fills in fine lines, strengthens the skin's natural ability to regenerate itself, fights against environmental damage, and also brightens and lightens age spots.
Retinol Complex - 3 Strengths
These formulations employ three distinct vitamin A derivatives that penetrate the skin at different rates through a sustained release delivery system making this treatment very tolerable with less skin irritation. Retinol Complex works to improve the appearance of fine lines, enhancing skin texture and accelerating cell turnover.
Dermal Repair Cream
Dermal Repair vitamin enriched facial cream intensely hydrates and replenishes dry skin with antioxidants and hyaluronic acid. It contains high levels of lipid-soluble antioxidant vitamins C and E, helps to reduce the appearance of age spots, conditions and firms the skin, provides protection against environmental aggressors and also encourages skin's ability to repair and rehydrate itself.
Vitamin C & E Complex
This highly stable, concentrated formulation contains 15% vitamin C in water- and fat-soluble forms for extraordinary antioxidant protection to promote cell renewal and improve skin tone, texture and firmness. The silicone suspension system prevents oxidation and delivers vitamins C & E to your skin throughout the day for maximum antioxidant protection.
TNS Eye Repair
TNS Eye Repair is the ultimate eye treatment cream formulated with NouriCel-MD, peptides, high concentrations of vitamins C and E and hyaluronic acid to dramatically improve the appearance of the delicate skin around the eyes. TNS Eye Repair will help to increase the firmness and elasticity, improves the appearance of fine lines and wrinkles, strengthens the delicate skin around the eyes, hydrates the fragile skin around the eyes, and reduces the appearance of dark circles.
AHA/BHA Cream
This great age defense moisturizer will help keep your skin hydrated while preventing build up of dead, dry skin cells with the help of alpha and beta hydroxy acids. Adding this product to your skin care regimen will help give you a younger, smoother, more youthful looking complexion.
What to Expect in a Consultation
Dr. Dina Eliopoulos has nearly 2 decades of experience as a board-certified plastic surgeon, with a reputation for dedication, surgical excellence, and professionalism. The purpose of her consultation is not to "convince you" to undergo a procedure, but to learn about your goals and educate you on your surgical options.
Schedule a Consultation Today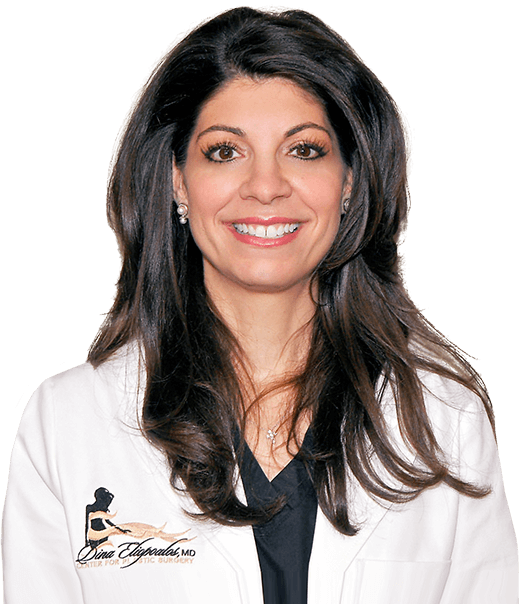 "I LOVE these skin products — I have had sooo many comments on my skin looking "flawless". I've never had anyone ever comment on my skin. Thank you so much for helping me get on board with these products." Erin, Reading
DefenAge Skincare
Inspired by the recent discovery of the skin's regeneration process, the scientists at DefenAge™ have identified how to unlock the key to youth with powerful peptides called Age-Repair Defensins™. Paradigm-shifting DefenAge is the FIRST and ONLY 4th generation skin care featuring this stand-alone breakthrough NATURAL mechanism of action. Patent-pending and exclusively available in DefenAge.
We are pioneering the future of skin care with this simple three step system.
Revives youthful firmness
Brightens age spots
Defines contours
Smoothes lines
Diminishes wrinkles
Unclogs & minimizes pores
Comforts sensitivity
Evens skin tones
Corrects surface imperfections
Revives clarity
Replenishes moisture
Repairs dryness
Refines texture
Renews softness
Revitalizes dullness
Calms redness

Silagen Silicone Gels and Sheets
Silagen silicone gels and sheeting are made with the highest quality medical grade silicones. The silky feel of Silagen gels won't leave a wet, sticky mess on your skin like other gels do. This gel is non-comedogenic and non-irritating. The Silicone Gel Sheeting are 1mm thick, strips and shapes featuring an advanced adhesion technology, allowing them to conform well to the body and still be durable enough to last for up to 4 weeks.
How does Silagen work?
Silagen gels and sheets create a protective barrier over the scar, which increases hydration and helps stop excessive collagen build up. This will help flatten and soften your scar, reduce redness, itching and pain. The sunscreen in Silagen Silicone Gel + SPF30 helps to protect your scar from hyperpigmentation, an often permanent darkening of the scar caused by the sun.
Innovation in Skincare Technology: MICRO•ESSENTIALS
The Micro•Essentials products for all skin types, powered by MPC (Micro Protein Complex) technology, create a new standard in anti-aging cosmetics by addressing not only the basic signs of aging, fine lines and wrinkles, but also the complex signs, like loss of elasticity, skin firmness and hydration. A new anti-aging skincare ritual has been developed with NEOCUTIS innovation in the latest skincare technology.
MICRO•SERUM
Anti-Aging - Super-Charged with an Extreme Amount of MPC to Provide Maximum Rejuvenating Benefits
Intensive Anti-Aging Power
A concentrated blend of micro-proteins targets more than fine lines and wrinkles to address the complex signs of aging including firmness, elasticity, tone and texture
Supports skin's natural collagen for powerful anti-aging intervention
Skin-tightening pullulan and algae extract plus skin-hydrating Hyaluronic Acid help quickly transform the feel of skin
Helps contour visible sagging of the brow and jawline
Revitalizes the appearance of suppleness and elasticity
MICRO•DAY
Anti-Aging - One Application delivers 4 benefits
Skin revitalization
Anti-oxidant care
Broad-spectrum UVA/UVB sun protection
Hydration
Helps minimize the appearance of fine lines and wrinkles
Enhances suppleness and elasticity
Helps to improve the overall feel of skin firmness
Hyaluronic Acid helps provide skin hydration
The intensive anti-oxidant blend of green tea extract, forms of Vitamins C and E, plus melanin, help to defend against free-radical damage
Multi-functional cream helps restore moisture and provides broad-spectrum UVA/UVB SPF 30 sun protection
Can be used as adjunctive skincare following cosmetic or dermatological procedures
MICRO•NIGHT
Anti-Aging - Recharge Your Skin While You Sleep
Essential Nutrients
Hydrating Glycerin
Moisturizing Lipids
Targets multiple signs of skin aging including fine lines, wrinkles, elasticity and firmness
Delivers essential nourishment to help revitalize and rejuvenate the appearance of skin
Recharges skin while you sleep with essential micro-proteins for firmer, more luminous skin
Moisturizing lipids combined with hydrating glycerin help promote suppleness and smoothness
Multi-functional cream helps restore moisture and soothe skin after cosmetic or dermatological procedures
Can be used as adjunctive skincare with topical medications prescribed by your healthcare provider
MICRO•EYES
Anti-Aging - Mulit-Tasking Cream Targets The Delicate Eye Area
Diminishes the appearance of fine lines and wrinkles
Hydrates and soothes
Reinvigorates tired eyes
Minimizes the signs of aging specifically around the unique eye area such as crow's feet, hollowness and crepiness
Hydrating Hyaluronic Acid helps plump up the appearance of skin
Visibly reduces skin puffiness with caffeine
Refreshes the delicate eye area with bisabolol, a component of chamomile extract, so eyes appear younger and smoother with regular use
Helps alleviate the look of fatigue and under eye darkness
Colorescience is Makeup that Does More!
"Everyone at Colorescience believes that what you put on your face matters and here at the Center for Plastic Surgery, we do too. Colorescience believes that cosmetics and SPF absolutely have to be good for your health, good for the world, and they must make you look and feel beautiful. Colorescience high performance mineral makeup has been created to help you achieve a perfected, even complexion and protect your skin from the damaging effects of the sun and environment with SPF 20, 30 and 50. In fact, Colorescience has been awarded 35 Seals of Recommendation from The Skin Care Foundation. Colorescience is a premier luxury mineral makeup line that includes high quality ingredients, pure mineral formulations, and sun protection that are simple and easy to use. These unique products feature beneficial ingredients such as peptides, antioxidants, vitamins, zinc oxide and titanium dioxide. These pure mineral formulations do not clog pores and will not exacerbate existing skin concerns. You will never find any harsh chemicals, dyes, talc, alcohol, mineral oil or fragrance in Colorescience products."
The Colorescience Core Four Creates The Perfect Foundation…
Follow these easy 4 steps to Prime, Correct, Set and Protect.
Step 1: PRIME - Start your cosmetic routine with a Face Primer that improves skin texture, increases tone, helps to diminish the appearance of fine lines and wrinkles, and offers sun protection. We will customize your Primer to best target your skin concerns.
Step 2: CORRECT - Pressed Mineral Foundation Compact is easy to apply, light-weight, and highly pigmented to hide skin imperfections and even the appearance of overall skin tone. Also, achieve customizable light to full coverage with a feeling of a weightless powder. These pure mineral foundations are available in many color options to attain a natural appearance of perfected skin.
Step 3: MIST - Hydrating Setting Mist is formulated to soothe and replenish normal to dry skin. It will protect against dehydration and is refreshing for post procedure flaking and peeling skin. Great for before-during-after sun exposure and everyday use. Adheres to makeup and sun protection so the minerals appear polished, leaving the skin luminous and dewy.
Step 4: PROTECT - Protect from sun damage and its aging effects with Sunforgettable Mineral Sunscreens, available in SPF 30 (ideal for daily use) and SPF 50 (ideal for active lifestyle) and recommended by the Skin Cancer Foundation. These sunscreens are safe and effective for men, women, and children, and are available in a variety of shades including both matte and shimmer formulations. Mineral sunscreen provides safe, non-irritating UVA and UVB sun protection. The self-dispensing powder brush makes it easy to apply and re-apply throughout the day for continued coverage.
Other Colorescience Products We Recommend:
Even Up Clinical Pigment Perfector SPF 50: This patent pending formula instantly evens skin tone and provides SPF 50 protection while its highly effective skin-brightening complex, LUMIRA, addresses the appearance of skin discoloration for healthier-looking skin that lasts. Don't let its rich color dissuade you; Even Up is formulated with an apricot hue that diffuses pigmentation on all skin type.
Sunforgettable Loose Mineral Eyescreen SPF 30: The delicate skin around our eyes deserves special attention, but often our eyes get neglected from sun protection. Eyescreen SPF 30 is a specially formulated sunscreen which brightens and diffuses discoloration around the eye, provides UVA/UVB sun protection with SPF 30, and works great as a lid primer before makeup application.
Mineral Corrector Palette: Specially designed to camouflage blue, red, and brown discoloration and conceal your everyday skin concerns as well as post procedure discolorations.
Kabuki Brush: Uniquely designed for easy application of your Colorescience products
Brush Cleaner: A must to keep your Colorescience retractable brush products clean and functioning well, along with your makeup brushes.
Eyelash Enhancing Products
Not only do beautiful eyelashes camouflage the signs of aging, but they also enhance the eye's natural beauty. RevitaLash ADVANCED is a wonderful cosmetic product containing powerful peptides and soothing botanicals designed to beautify and nourish the eyelashes. This product was developed by an ophthalmologist to give his wife's eyelashes the look of renewed health, strength, and beauty after she had undergone intensive chemotherapy which left her lashes fragile, sparse and thin. All you need to do is apply a small amount above the upper lash line nightly and watch your eyelashes achieve there full potential!
Latisse is an eyelash treatment available as a monthly prescription from Dr. Eliopoulos which also can enhance the appearance of your lashes, making them appear thicker, fuller, and darker.
What woman doesn't want fuller eyelashes?