VI Peel
In Boston, MA
Refresh. Brighten. Rejuvenate.
Our Boston VI Peel from Vitality Institute is a revolutionary chemical peel that rejuvenates, exfoliates, and brightens skin with results in just about a week. This medical-grade peel infuses your skin with key vitamins and nutrients for a healthy glow as it lifts away the dead skin cells.
DinaMD is an experienced Boston VI Peel provider. Our clinical providers are well trained in the proper delivery of the treatment to give the best results possible.
What is the VI Peel?
Featured in publications such as Vogue, Marie Claire, and Brides, the VI Peel is a medium-strength chemical peel that addresses a host of skin concerns from rough texture to fine lines, age spots, large pores, scarring, and sun damage with less downtime than more aggressive peels. The VI Peel instigates a natural skin renewal process, causing the damaged skin to slough off and reveal the smooth, radiant skin beneath.
What ingredients are in the VI Peel?
The secret behind the VI Peel's efficacy is in its ingredients. The peel contains a synergistic blend of actives such as salicylic acid, trichloroacetic acid (TCA), retinoic acid, vitamin C, and phenol that can be customized to your skin type.
How does the VI Peel work?
The skin-safe VI Peel ingredients join forces to gently dissolve and lift away dead skin cells, unveiling a fresh, healthy layer of skin over the course of about seven to ten days.
What skin concerns does the VI Peel treat?
The VI Peel initiates controlled skin renewal to predictably improve your skin in several ways. The treatment aims to:/p>
Diminish scarring
Tame acne breakouts
Stimulate cellular renewal
Purify and refine enlarged pores
Smooth rough skin and textural concerns
Brighten dull skin and reverse sun damage
Soften the appearance of fine lines, wrinkles, age spots, and melasma
What are the benefits of the VI Peel?
The VI Peel is an excellent introductory peel for nearly all skin types, including sensitive skin. It is an ideal option for busy individuals who can't afford the downtime associated with more aggressive skin peels. Most patients see results in as little as a week.
Am I a good candidate for the VI Peel?
Anyone who wants to improve their skin texture, brightness, and clarity may be considered for the VI Peel. Unlike some other types of peels, the formulation is safe for all skin types and tones—even sensitive skin and dark complexions.
There are a few situations when patients should not have a skin peel. Women who are pregnant or breastfeeding may not be the best candidates. If you have an active skin infection, broken skin, or sores, this may delay the start of your treatment.
Your VI Peel Procedure
First, your provider at Dina Eliopoulos MD Center for Plastic Surgery will thoroughly cleanse your skin to ensure even application of the peel. Next, she will apply the VI Peel solution in layers using a sterile applicator. As the peel penetrates your skin, you may experience tingling or stinging that lasts a few seconds. Most patients find any discomfort is mild and temporary.
VI Peel Recovery
Recovering from a VI Peel is relatively quick and easy. Initialy your skin may feel slightly dry, tight, or appear flushed.
Your skin should begin to peel a few days after your treatment, indicating the peel is working. Peeling generally lasts seven days, but may persist for longer. Do not pick at your skin as it sheds. This can cause an infection or scarring. For the best results, allow your skin to slough naturally.
The fresh, new layer of skin is more prone to sunburn and sensitivity. It is imperative to limit sun exposure, wear sunblock, and avoid aggressive skincare products such as retinoids, AHAs, and exfoliants during the healing period.
VI Peel Results
In just about a week, you should be rewarded with the results of your peel. Your complexion should take on a visibly smoother, brighter, and refined appearance. To maintain your results, your aesthetics expert may suggest a series of peels. Maintenance treatments will keep your skin vibrant and healthy for the long term.
Schedule your Boston VI Chemical Peel consultation with DinaMD today
To learn more about your chemical peel options, such as the VI Peel Boston aesthetic experts at DinaMD are available to answer any questions you may have, and to address your concerns during a consultation. Call tel:+19782759440 or use the booking link to schedule an appointment today.
What to Expect in a Consultation
Dr. Dina Eliopoulos has nearly 2 decades of experience as a board-certified plastic surgeon, with a reputation for dedication, surgical excellence, and professionalism. The purpose of her consultation is not to "convince you" to undergo a procedure, but to learn about your goals and educate you on your surgical options.
Schedule a Consultation Today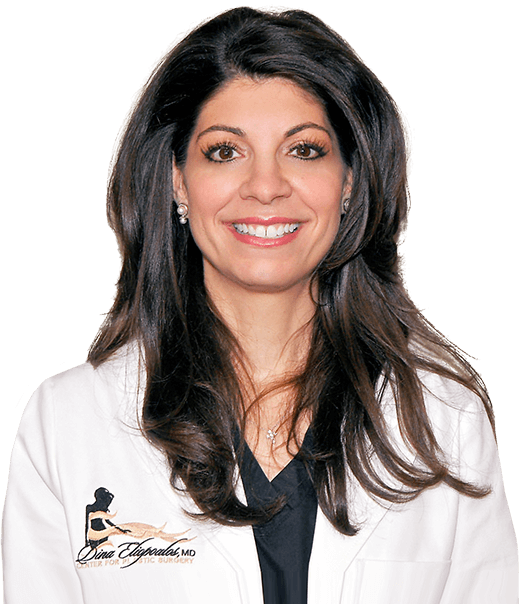 VI Peel FAQs
How soon will I see results?

Most patients see the full results of the VI Peel after their skin stops flaking, usually seven days later.

How often should I do a VI Peel?

You may need a series of one to four peels spaced several weeks apart. The number of VI Peels depends on the severity of your skin concerns.
What makes the VI Peel different?

Many chemical peels contain only one or two active peeling ingredients. While they can be highly effective, the VI Peel contains a blend of several exfoliants that work together to predictably resurface the skin.