Breast Implants NH
How Breast Implants Can Improve Your Curves
Patients in and around New Hampshire place their trust in Dr. Dina Eliopoulos because she achieves exceptional results on a routine basis. So many patients have benefited from her expertise, particularly with breast augmentation surgery, which can boost breast size and enhance the curves of your body, making you look more effeminate and beautiful.
Please view Dr. Eliopoulos' Breast Lift before and after results. These are actual patients.
Breast Implants New Hampshire
While many people know that breast implant size is an important part of breast augmentation, not as many people are aware of the importance of breast implant profile. Let's consider this right now.
About Breast Implant Profiles
Breast implant profile refers to the amount of forward projection that a breast implant has. This means that the breast implants with a higher profile will lead to more cleavage and a more prominent bustline and curves.
Why Breast Implant Profile Matters
Video: Breast Augmentation
While breast implant size can have a major effect on the results of breast augmentation surgery, the profile of the implants also make a major difference on the overall procedure. Sometimes a patient may actually benefit from getting slightly smaller breast implants with a higher profile, though this will depend on the patient's frame and body type.
Enlarge
View All
Types of Breast Implant Profiles
There are four different types of breast implant profiles:
Moderate Profile Breast Implants: Moderate profile breast implants are considered the standard breast implant profile for augmentation surgery.
High Profile Breast Implants: High profile breast implants have the most outward projection and create the most prominent cleavage.
Low Profile Breast Implants: Low profile breast implants have the least amount of forward projection.
Moderate Plus Profile Breast Implants: Moderate plus profile breast implants offer a little more outward prominence than moderate profile implants but not as much prominence as high profile implants.
What to Expect in a Consultation
Dr. Dina Eliopoulos has nearly 2 decades of experience as a board-certified plastic surgeon, with a reputation for dedication, surgical excellence, and professionalism. The purpose of her consultation is not to "convince you" to undergo a procedure, but to learn about your goals and educate you on your surgical options.
Schedule a Consultation Today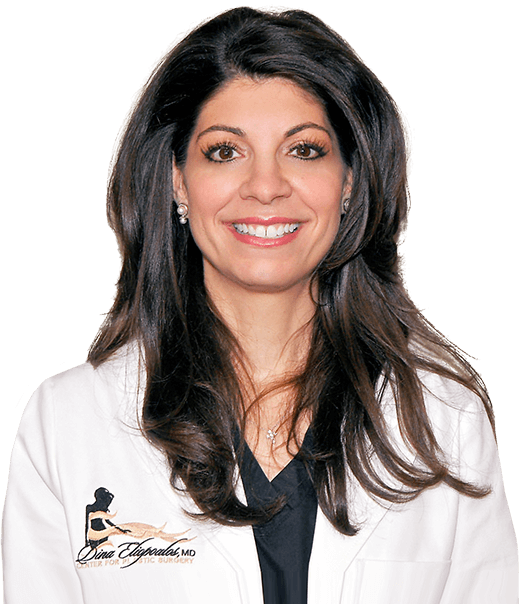 "I had done years of researching implants, safety, and doctors but never felt comfortable enough to go through with surgery. A recent acquaintance informed me of Dr. Eliopoulos and couldn't say enough great things about her. After meeting Dr. Eliopoulos that comfortable feeling I was searching for was found. Her presence was soothing and she was extremely detailed on what my expectations would be. She exceeded my expectations both pre- and post-surgery." LJ, Age: 41, Dental Hygienist, NH
Breast Implants Before & After Photos
See Dr. Eliopoulos' breast implants before and after results. It is important to look at before and after images to get an idea of what can be achieved with a surgery and to help guide the process with the doctor.
Picking the Right Breast Implant Profile for Your Needs
In most cases, the use of low profile breast implants tends to be best for patients who have a broader chest and shoulders. This is more likely to yield natural results. The use of moderate profile, moderate plus profile, and high profile breast implants are generally more ideal for patients who frames and body types are average or slighter in stature.
Other Factors to Consider for Breast Augmentation Surgery
In addition to breast implant size and breast implant profile, it's important to also consider the shape of the breast implants, the placement of the implants relative to the chest muscle and mammary glands, and the composition of the breast implants themselves.
All of these issues can be discussed in greater detail during your visit to the practice. This will help you in making the most well-informed and confident decision with regard to your overall appearance and wellness.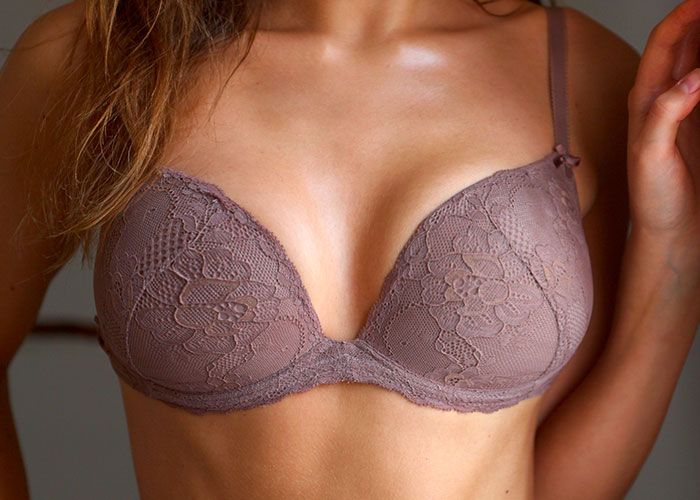 Contact Dr. Dina Eliopoulos
To learn more about breast augmentation surgery and how it can help you achieve the look that you have always wanted, be sure to contact our cosmetic skin care and plastic surgery center today. Dr. Dina Eliopoulos and her entire team look forward to your visit and helping you look and feel your best.