Laser Hair Removal
Long-Lasting Freedom from Waxing and Shaving
You may be surprised to learn that almost your entire body is covered with hair. Because most of this hair is fine and pale, it usually isn't visible to the naked eye. But when darker, coarser hair appears in unwanted places, both men and women now have a better, longer-lasting solution than shaving, depilatories and waxing – laser hair removal.
Laser Hair Removal Facts
In the past, the usual remedies for unwanted hair were plucking, shaving, waxing, or chemical depilatories. Some are painful, some are messy, and all are only temporary. While electrolysis can be effective, it can be slow and uncomfortable. Laser hair removal using the LightSheer Diode Laser is a more effective solution, specifically designed to remove unwanted hair faster, with less discomfort, and more reliably than all these other methods.
Men are often bothered by excess hair on the back, shoulders, chest, or ears. Or, they may experience a condition called "pseudofolliculitis barbae," a chronic inflammatory condition in hair-bearing areas such as the beard of the face. Women can certainly enjoy the benefits of laser hair removal as well, eliminating unwanted hair in areas like the face, neck, abdomen, back, breast, arms, underarms, legs and bikini area.
You don't have to be ashamed about your body. With laser hair removal NH men and women can feel confident about themselves again. For laser hair removal New Hampshire residents can count on, see Dr. Eliopoulos.
How Does Laser Hair Removal Work?
Depending on your needs, most body areas and skin types can be treated with the state-of-the-art technology of laser hair removal. This system was designed from the ground up for effective hair removal, providing unsurpassed safety, efficacy, reliability, and ease-of-use. The light emitted by the laser is absorbed by the pigment located in the hair follicles. The laser pulses for a fraction of a second, just long enough to vaporize the pigment, disabling numerous follicles at a time to eliminate or significantly impede the hair's regrowth. The patented Chill Tip handpiece actively cools before, during, and after treatment to minimize discomfort, and enables the use of higher treatment frequencies.
To learn more about the world's most advanced laser hair removal system, contact Dr. Eliopoulos, serving New Hampshire.
What You Can Expect
A thorough consultation with Andrea, our Medical Esthetician, certified in laser hair removal, will help you determine if laser hair removal is right for you. She will answer all your questions and perform a test spot with our laser. The length of a laser session may take a few minutes to an hour depending on the size of the area being treated. Because the laser tends to treat hair follicles that are in the active growth phase, anywhere from 4-6 treatments may be required to disable hair follicles that subsequently enter this growth phase.
The laser hair removal treatment is very tolerable and feels a bit like a mild snap of a rubber band and may cause a slight tingling sensation after the treatment. Although most patients tolerate the procedure well, some areas of the body are more sensitive than others, and topical anesthetic may be an option. The appearance of the treated area immediately after a laser session will vary depending on the extent of the treatment and the skin type. Immediate after-effects, if any, are minor. They may include redness and swelling, which disappear in a short time. Most people return to normal activity right away. While most skin types can be treated, it is best to avoid the sun during treatment sessions and treating un-tanned skin allows for the safer use of higher energies with faster results.
What to Expect in a Consultation
Dr. Dina Eliopoulos has nearly 2 decades of experience as a board-certified plastic surgeon, with a reputation for dedication, surgical excellence, and professionalism. The purpose of her consultation is not to "convince you" to undergo a procedure, but to learn about your goals and educate you on your surgical options.
Schedule a Consultation Today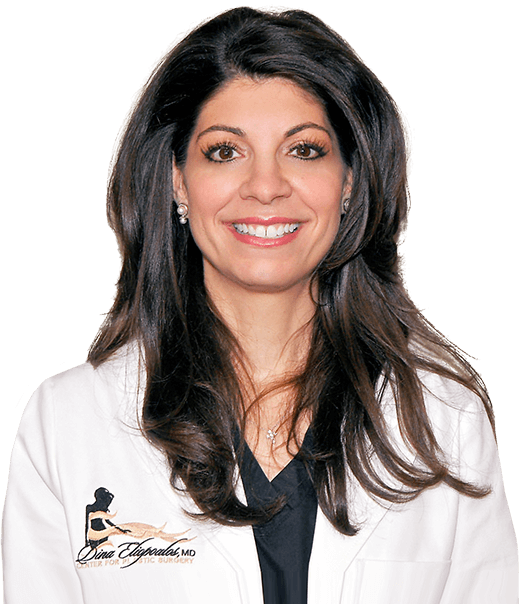 "I recently started Laser Hair Removal and after just two treatments I very rarely have to shave. I am so excited with my results. The entire staff at Dr. Eliopoulos' office are so pleasant and very professional. I'm so pleased with ALL my results and I no longer feel uncomfortable wearing sleeveless shirts. My results are amazing. Go for it, it's worth it!" Jean, Age: 52, North Andover, MA
Benefits to Laser Hair Removal NH Patients Should Know
Laser treatment safely and effectively removes unwanted hair from all skin types. This non-invasive, gentle technique eliminates undesirable hair from all parts of the body. Laser hair removal provides safe and effective treatment of pseudofolliculitis barbae, a chronic inflammatory condition found particularly in ethnic skin types.
Larger areas are treated effectively because laser hair removal eliminates more than one hair at a time. The procedure involves minimal discomfort, and often lasts less than an hour. Laser hair removal replaces waxing, electrolysis and razors. After the procedure, patients can immediately return to normal activities.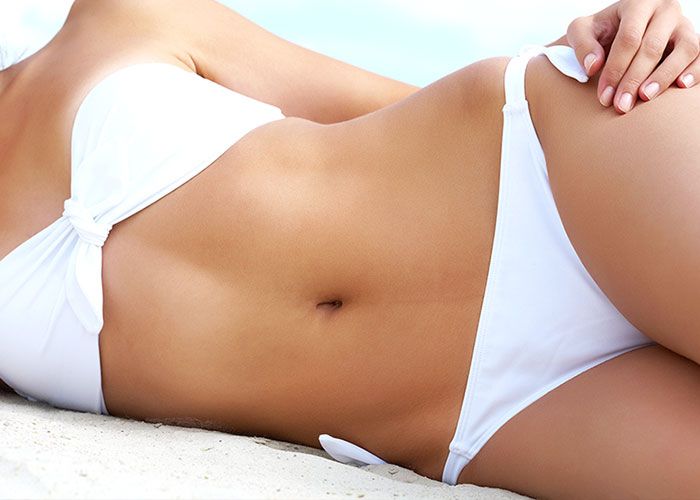 Learn More about Laser Hair Removal
If you are interested in an alternative to painful waxing, messy depilatories, and inconvenient shaving, laser hair removal may be for you! The Chelmsford, Massachusetts Center for Plastic Surgery is committed to providing quality patient care while helping patients reach their aesthetic goals. For laser hair removal New Hampshire area options, contact the practice today to set up a personal consultation!