Medical Spa NH
Best Medical Spa Treatments for Your Face and Body
There are a number of non-surgical treatment options for available for New Hampshire patients. Commonly referred to as Medical Spa Treatments, these skin and laser procedures are minimally invasive, helping you to look your best with some of the shortest recovery times. If you want to experience the best medical spa treatments, chances are you'll find them here. For a medical spa NH residents can trust, see Dr. Eliopoulos.
New Hampshire Medical Spa
Dr. Eliopoulos offers a wide range of procedures for enhancing the natural beauty of your face and body.
CoolSculpting
CoolSculpting Fat Freezing Treatment is a non-surgical alternative to liposuction and other surgical fat-reduction methods. During a CoolSculpting treatment, cooling applicators comfortably deliver controlled cooling to your fat cells which causes them to freeze. In the weeks and months following treatment, your fat cells die and are naturally eliminated by your body and your problem areas become sleeker and slimmer. If you retain stubborn pockets of fat even with proper diet and exercise, CoolSculpting is an amazing non-surgical treatment to consider for fat reduction.
Chemical Peels
Using a range of chemical solutions, Dr. Eliopoulos can safely improve the look, feel, and health of your skin. Most commonly performed on the face, neck, and hands, a chemical peel is designed to rejuvenate the surface of the skin, peeling away layers of damaged, wrinkled, or discolored tissue. By targeting deadened skin cells, we can reveal the vibrant, flawless, healthy skin that lies beneath. Your treatment will be customized to fulfill the unique needs of your skin and allow you to reach, and possibly even exceed, your cosmetic goals.
What to Expect in a Consultation
Dr. Dina Eliopoulos has nearly 2 decades of experience as a board-certified plastic surgeon, with a reputation for dedication, surgical excellence, and professionalism. The purpose of her consultation is not to "convince you" to undergo a procedure, but to learn about your goals and educate you on your surgical options.
Schedule a Consultation Today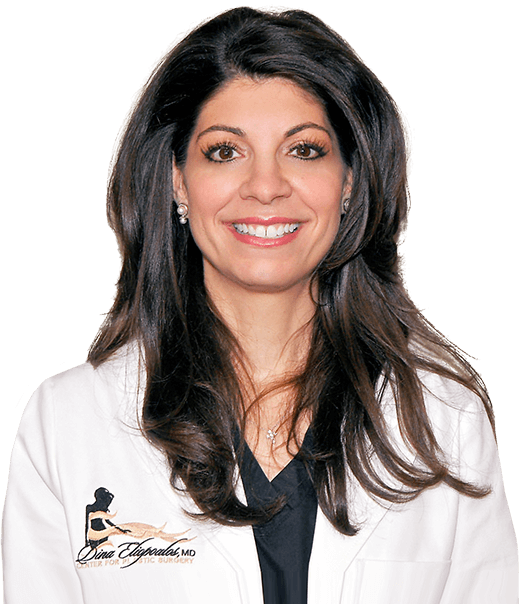 "As I started to close in on my 50th birthday, I knew that I wanted to look the best that I could as I age. I was very self-conscious of sun spots (melasma) on my face, and of course fine lines. After only 2 weeks of having Microdermabrasion treatments my skin became noticeably healthier looking. I am so happy that I decided to start this process for myself and that the results are real." Denise Daly, Age: 49, Office Manager, Lowell
Injectable Treatments (BOTOX Cosmetic and Fillers)
Injectable treatments, such as BOTOX Cosmetic and dermal fillers, offer a quick, effective, long-lasting, and non-surgical alternative to cosmetic surgery for individuals who are seeking to correct minor imperfections or keep their skin and face looking healthy and refreshed, yet natural. If you would like to reduce the appearance of wrinkles, laugh lines, crow's feet, or sunken areas, or simply would like to look more rejuvenated while remaining very natural, injectables may be for you.
Exilis ELITE System
The Exilis ELITE System is a non-invasive procedure that uses monopolar radiofrequency waves to help our patients achieve their cosmetic goals. The advanced patented technology enjoys a broad range of applications. We especially utilize this treatment for skin tightening and wrinkle reduction. Through a series of treatments the Exilis ELITE System offers a safe, effective method to rejuvenate the delicate skin of the face and neck for a refreshed, more youthful appearance with no downtime. Exilis ELITE can also be used as a non-invasive treatment for fat reduction.
KYBELLA Injections
The appearance of a double chin causes many patients, who are otherwise fit, to be unhappy with their profile. With KYBELLA, we now have a nonsurgical option to eliminate stubborn fat. The injectable treatment is safe and effective, and approved by the U.S. Food and Drug Administration (FDA). KYBELLA is designed to damage the cells that store and accumulate fat, revealing an improved chin profile as the body naturally eliminates these destroyed fat cells. Most patients require several treatments, typically three to six sessions spaced at least a month apart. For the right patients, KYBELLA offers permanent results.
Fractional Laser Resurfacing
Fractional Laser Resurfacing at the Center for Plastic Surgery is a highly effective way to revitalize the skin and improve problems such as fine lines, wrinkles, acne scarring, stretch marks, and more. These laser treatments promote collagen production, allowing the results of the procedure to last long after the treatment has been completed. Depending on your clinical condition, either our fractional non-ablative laser resurfacing or our fractional ablative CO2 laser resurfacing may be the solution you have been looking for.
Microneedling
Microneedling is a non-surgical treatment used to minimize the appearance of wrinkles, scars, acne scars, and stretch marks. The series of microscopic needles is rolled over the surface of your skin to help encourage collagen production, minimize pore size, and stimulate the skin to regenerate and repair itself.
Laser Hair Removal
Do you have excess hair that you would like permanently removed? If so, laser hair removal allows for just such a possibility. Unwanted hair can cause embarrassment or simply prove annoying. Though waxing and shaving both provide a solution, the results are temporary and the process is often a hassle. Seek an alternative.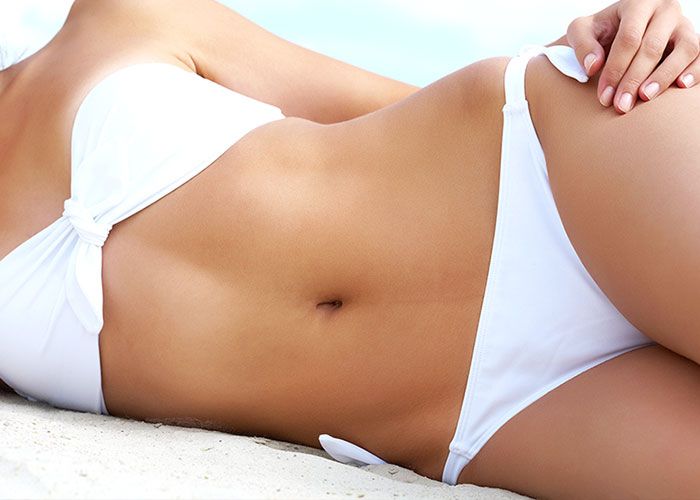 IPL Photorejuvenation / Photofacial
Using the advanced technology of Intense Pulsed Light (IPL), photorejuvenation treatments target sun damage, age spots, spider veins, rosacea, and other blemishes. By emitting a broad spectrum of therapeutic light that is converted to heat energy, IPL photorejuvenation reveal skin that is renewed, rejuvenated, and more evenly pigmented. Four to six treatments may be recommended for maximum results.
Exilis ELITE System
The Exilis ELITE System reduces the appearance of wrinkles and gives you an overall more lifted, youthful appearance in just one treatment. This nonsurgical treatment tightens the skin on your face and neck by stimulating collagen production deep within your skin. Through the power of radio frequency technology, this amazing system can shrink fat cells and create the tighter, lifted look you desire.
Skin Care Products and Scar Cream
The Center for Plastic Surgery in Chelmsford, Massachusetts offers advanced skin care treatments and products to bring back the glow of healthy, young-looking skin. We take your skin seriously. That's why we strive to provide the best physician strength skin care products proven to be both safe and effective. Under the guidance of our plastic surgeon Dr. Eliopoulos, our Medical Esthetician will perform an in depth skin analysis to create a customized program for you to follow. With the use of Neocutis skin care products, you will optimize your in office skin care treatments as well as maintain your amazing results.
VISIA Complexion Analysis System
VISIA is an imaging system which helps us help you to actually see what's really going on deep within your skin. With VISIA, we take pictures of your face in a very standardized fashion, and the system will then intricately analyze the overall health of your skin. The system will show you what the naked eye is unable to see. Once VISIA gathers the information about your skin, we can begin to compare your skin to other individuals of the same sex, age, and skin type.
ThermiVa Vaginal Rejuvenation
Dr. Dina Eliopoulos is proud to offer patients advanced ThermiVa treatment for vaginal rejuvenation. This recent technology allows for non-invasive tightening of the labia and vaginal canal using controlled heat and radio frequency waves. The technology used for ThermiVa is similar to other non-surgical treatments for skin tightening that have shown exceptional results, with less patient discomfort and reduced recovery times when compared to traditional procedures.