7 Essential Winter Skincare Tips
December 1st, 2022 — by Dina Eliopoulos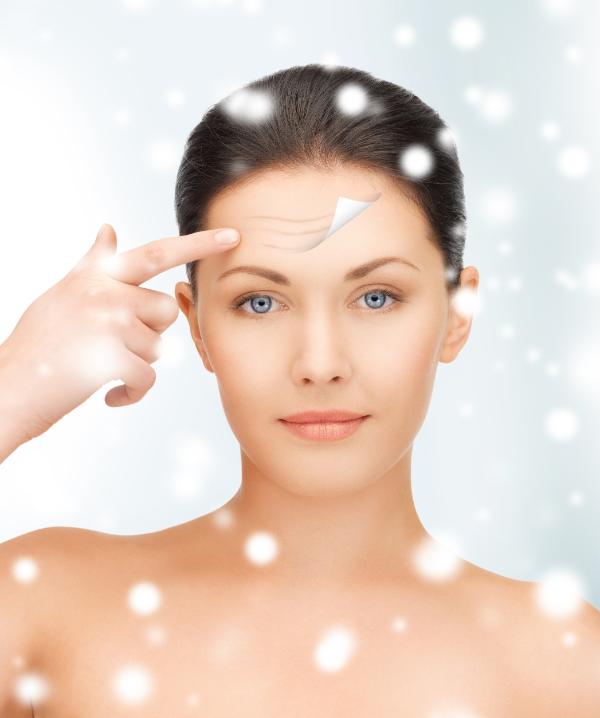 During the fall months, you may start noticing that your skin is drier and that your routine skincare products aren't as effective. Unfortunately this issue will only worsen as we head into the colder winter months here in Massachusetts. Not only do the chillier outside temperatures leave your skin feeling raw, but indoors, the heat zaps the skin of its moisture, contributing to flakiness you may see on your skin and in some cases, even acne. Winter is not the best timing for your skin to lose its composure, considering our schedules this time of year are bustling with holiday parties and get-togethers.
Make sure you take the time this season to treat yourself as you're treating others. With the right combination of medspa treatments and an at-home skincare routine, you can protect your skin all winter long and maintain a hydrated, healthy glow throughout the holidays.
How to Protect Your Skin and Look Your Best
When skin loses water too quickly, it becomes dry. Many external factors can make this happen, but one of the main culprits is low outdoor temperatures. That's because when it gets colder outside the air holds less moisture.
As we head indoors, we're also cranking up the heat and reducing the amount of moisture in the air. The epidermis (the outermost layer of the skin) reflects the air around it, so it quickly becomes depleted of moisture. The result? A dry, dull complexion.
In addition to temperature fluctuations affecting our skin, stress associated with the holidays can also take its toll. Studies show that hormones released when the body is stressed, cortisol and androgens, can result in increased oil production, which in turn, can exacerbate skin conditions such as acne.
Even though we can't change New England weather, there are several winter skincare tips we can (and should) keep in mind to restore moisture, combat acne, and carry through the holiday season with a glowing complexion.
Your At-Home Winter Skincare Routine
Use a hydrating cleanser. Look for products formulated for sensitive skin, acne, or dull skin. In addition, it's important to use medical grade products that are free of fragrances and alcohol which can have the same impact.
Invest in a serum. Serums are elixirs that help protect against environmental stressors like wintry weather. I recommend the ZO® Illuminating AOX Serum during this time of year. This serum features ZPOLY™, a plant-derived polysaccharide that not only reduces signs of aging but also provides extended hydration. The product is lightweight and locks in moisture, leaving skin hydrated.
Switch to a heavy-duty moisturizer. During the summer, we have the humidity to help keep our skin moist, so lightweight formulas work well. In the winter, however, I recommend switching to a more intense moisturizer for both day and night to replace the moisture we're losing from both outdoor and indoor air. I recommend Alastin Ultra Nourishing Moisturizer.

Do not forget: Make sure to moisturize often! Aim for at least twice a day and especially after you shower, because moisturizer is more effective when applied to damp skin.
Wear SPF. Yes, even in the winter and even on cloudy days. It may be cold, but UV rays are still reaching us. Plus, those UV rays easily bounce off surfaces like snow, leaving you at an increased risk of sunburn and with it, dry skin. Alastin offers a variety of antioxidant-rich mineral sunscreens to shield your skin from damaging UVA/UVB rays, environmental pollutants, and blue light.
Medspa Treatments for Dry Winter Skin
On top of practicing a consistent winter skincare regime at home, you can take extra steps to hydrate your skin with a few specialized medspa services. Not only do these treatments do wonders for your skin's health, but they are also effective for creating an immediate bright and cheery complexion for the holidays! These treatments include:
DiamondGlow Facial: Using a precision diamond tip to match your skin's needs, this facial exfoliates, extracts, and infuses open pores with a customized serum to leave it feeling plump, hydrated, and radiant. There's no downtime with this facial, and with one to two treatments before a big event or holiday party, you'll notice a clear difference in your complexion.
ZO® Stimulator Peel: Peels are highly effective; with just one treatment you can see noticeable results. A simulator peel can soften and reverse the signs of sun damage, increase skin's tolerance to environmental stressors, improve the appearance of age spots, fine lines, wrinkles, and hyperpigmentation, as well as stimulate collagen production. Peels also exfoliate the skin, allowing the skin to better absorb the products we use during the winter. One of the most important things to remember about getting a peel is the timing, especially if you have a party or event coming up.
PRX-T33 Peel: There's virtually no downtime needed with a PRX peel because it doesn't damage the epidermal layer of the face. It's the "non-peeling" peel, which is why our patients love it! This peel can produce dramatic results, leaving skin feeling firmer and brighter. A PRX Peel may be a suitable option for those with extra sensitive skin during the winter
Brighten Your Complexion this Season
Instead of experimenting with different products and services on your own (which can be expensive and time-consuming), schedule a consultation with our Chelmsford skincare experts to understand and learn about the best skincare routine for you this winter. At The Center for Plastic Surgery in Chelmsford, MA, we can create a customized at-home skincare routine coupled with a medspa treatment plan to ensure you're glowing for the holidays and into the New Year.