Debunking the Common Myths About Botox & Dermal Fillers
July 6, 2022 @ 11:20 AM — by Dina Eliopoulos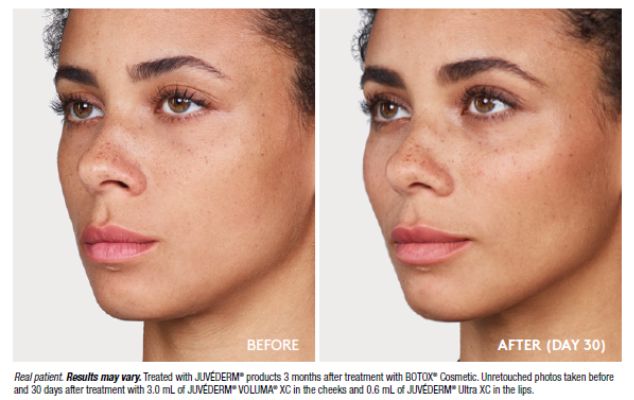 It's not surprising that Botox® and other injectables are among the most popular non-surgical cosmetic treatments, requiring little to no downtime and often providing faster results than other medical or surgical treatments. With society's selfie addiction and on-camera, remote work environments, I'm finding that more patients of all ages want to fine-tune their appearance and create a harmonious facial balance using injectables.
For patients new to the idea of injectables, I find that many enter the conversation with pre-conceived notions, given the overdone or disproportionate looks you often see portrayed in the media. If you want to enhance your contours, increase volume, or erase fine lines, injectables are a natural-looking solution when administered by a trained and experienced provider. So, let's debunk the most common myths around Botox and fillers.
Myth #1: Injectables Result in an Unnatural Look
When you've seen someone who looks like they've had Botox or dermal fillers because their facial proportions or expressions seem unnatural, that can be due to several reasons, including:
Poor injection technique
Incorrect placement of product
Using too much product
Not using the correct type of product
If you prefer the natural look, the most critical decision you can make before you proceed with injectable treatment is to make sure you consult with a Master Certified Injector or medical provider. Only with extensive training and practice can a provider know how to avoid inducing unnatural-looking outcomes and achieve natural-looking enhancements to your skin volume and texture. By taking a "less is more" approach, we can ensure that after the treatment you still look like you, only enhanced and feeling more confident. If needed, you can always further the results of your initial injection with additional filler.
Myth #2: Botox and Dermal Fillers Are One in the Same
While both treatments are non-invasive and well-tolerated by patients, these two injectable treatments are different in terms of how they work. As the name implies, dermal fillers increase volume where volume has been lost. Common treatment areas include around the nose and mouth (the nasolabial folds), cheeks, and lips. The result is a smoother, fuller, and more youthful appearance.
On the other hand, Botox addresses aesthetic concerns due to repeated muscle movements (squinting, smiling, frowning, etc.). Most often, these wrinkles form in areas like the forehead, between the eyebrows, and around the eyes. Botox is also great for softening dimpling in the chin and neck lines, alleviating symptoms of TMJ (temporomandibular joint), and providing an overall slimmer facial appearance. As opposed to a filler, the Botox cosmetic treatment temporarily relaxes the muscles to soften the appearance of these types of lines and wrinkles. When the muscles relax, the expression lines soften.
Myth #3: Botox & Fillers Are Only for Older Adults
While many patients start seeing us in their 40s and 50s to correct their fine lines and wrinkles, most people are surprised to hear that your body's collagen and elastin begin decreasing in your 20s.
For this age group, injectables are used as a preventative measure rather than correcting the aging process's effects – preventing wrinkle formation before it begins. Additionally, this age group commonly seeks Botox and dermal filler treatment to achieve a more contoured and sculpted cheek, chin, and jaw, as well as poutier, fuller, and smoother-looking lips.
Preparing for Your Injectables appointment
To help achieve your best results and safely receive your treatment, there are a few prep steps we recommend:
One week before your treatment, avoid blood thinners, including NSAIDs, fish oils, omegas, vitamin E, and alcohol, to mitigate bruising and bleeding.
You can take arnica supplements (found at the pharmacy or vitamin store), which will help reduce swelling and bruising after the treatment.
No dental work, including dental cleanings, for 30 days before and after.
No vaccines or boosters, including Influenza (Flu), Shingles, or COVID-19 for 30 days before and after.
No illness or antibiotics within 30 days of your scheduled treatment.
What to Expect After Your Injectable Treatment
Once your procedure is complete, there are a few things to keep in mind to stay as comfortable as possible and to maximize results:
You can continue taking arnica supplements (oral or topical) to reduce swelling and bruising. If you need a pain reliever, use acetaminophen (Tylenol).
Avoid alcohol for approximately 48 hours.
For Botox injections, avoid exercise for 24 hours, lying down for 4 hours, and massaging the area for 2 weeks following treatment.
For dermal fillers, avoid exercise for 24 hours, wearing makeup for 24 hours, and massaging the area for 4 weeks.
After your treatment, we will schedule a follow-up appointment for maintenance. Different injectable products have different longevities, so the length of the results will vary between patients. Anticipate Botox maintenance every 3-4 months and filler follow-up every 6-18 months.
No travel by airplane 3 days post dermal filler treatment.
Most importantly, do not touch, pick, or itch at the injection site.
Schedule Your Consultation Today
During a thorough consultation process, Boston area plastic surgeon Dr. Eliopoulos and her team will work with you to develop a personalized treatment plan based on your needs. For more information, schedule your consultation today.