Hyperpigmentation
Oct 2, 2013 @ 04:37 PM — by Dina Eliopoulos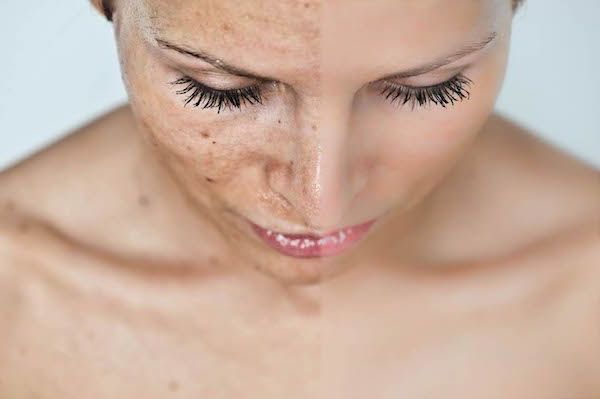 A question that many of my patients ask me is, "What is the most common skin condition you treat?" Although there are many, the most common skin condition is brown spots of the face, otherwise known as hyperpigmentation.
Hyperpigmentation is often referred to as sun damage, brown spots, sun spots, liver spots, freckles or melasma and can be unsightly for many people. It can be a result from years of sun exposure, the natural aging process, or because of hormonal changes. Hyperpigmentation can cause unevenness to the color of your skin which ends up leaving you with mottled pigmentation. Many people try to cover their hyperpigmentation up with makeup and then find that makeup can sometimes makes these spots look even more obvious.
You may be wondering, what is the upside to all of this? Hyperpigmentation is not something you have to live with. Hyperpigmentation is a skin condition that can be treated and be treated quite easily to be honest.
Like many things in life, there are options, and there are several options on how to treat hyperpigmentation. These options depend upon the type and severity of the brown spots and a patients' specific skin type or commitment level. The two most common ways we help patients are with IPL (Intense Pulsed Light, also called Photorejuvenation) and our Fractional CO2 Laser Resurfacing, ActiveFX. Other patients may be more suited for Chemical Peels or Microdermabrasion, which we also offer. These treatments are very safe and are an effective way of targeting those unsightly brown spots. During the consultation process, I will be able to show you up close the extent of your hyperpigmentation with our VISIA Complexion Analysis System. After a thorough examination of your skin, I will be able to educate you on the treatment options available and we will come up with a treatment regimen to best fit your needs.
IPL or Photorejuvenation is a great way to treat mild to severe hyperpigmentation and the advantages of IPL are several. There is no prolonged recovery time and the treatments take about 20-30 minutes. The pigmented spots being treated will most likely darken slightly for several days before beginning to fade. For maximum results, a series of about 5 IPL treatments may be recommended, separated by 3-5 weeks. By dividing the full program into several treatments, the procedure provides gradual improvement with very low risk, without any interruption in a patient's day to day life. While the face is the most common area I treat with this modality, the chest and décolleté along with the hands also respond wonderfully to this treatment. The chest and hands can be a telltale sign of photoaging so it's nice to consider treatment of these areas if they are a concern.
The other common way we treat hyperpigmentation is with our Fraction CO2 Laser Resurfacing, ActiveFX. This treatment is a great way to target not only flat surfaced pigmentation but benign lesions on the face like seborrheic keratosis (brown rough or waxy raised lesions) and also colored and noncolored moles on the skin. We have had many patients thrilled with their results because their only option in the past was to have these moles excised, or cut out, which would tend to leave a scar. With the ActiveFX, not only can we remove the discoloration, but also remove the growth in a safe, effective way, without leaving a scar on the skin.
Once we have your pigmentation under control, I will guide you on the best way to maintain your results and keep your skin looking healthy.
If hyperpigmentation is something that has bothered you over the years, know there are easy, safe, and effective solutions here at our Chelmsford Med Spa and Plastic Surgery practice to treat it. And remember…not only are these treatments great for pigmentation on the face, but I treat many patients' neck, chest, hands, arms and legs.
Call (978) 275-9440 to schedule a Skin Care Consultation to see which treatment plan is best for you.
Andrea Chambers, Medical Esthetician, at the Center for Plastic Surgery, Chelmsford, MA