Liposuction 101: Recovery
Dec 28, 2022 @ 12:00 PM — by Dina Eliopoulos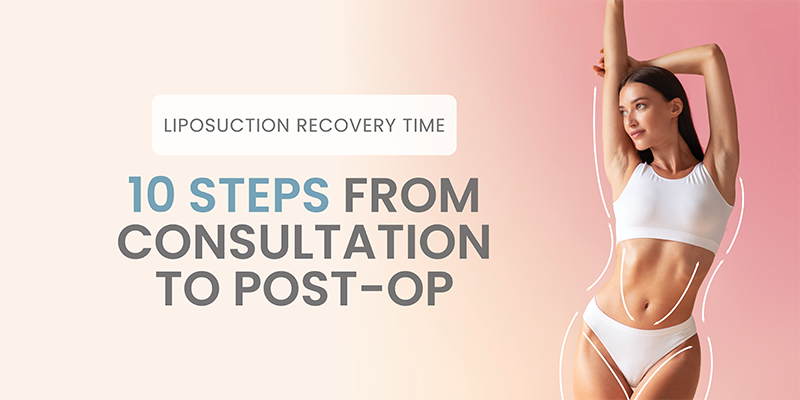 10 Steps From Consultation to Post-Op
Are stubborn, localized fat deposits in the way of you and your dream body? They don't have to — liposuction can help! Nearly half a million men and women undergo liposuction each year to eliminate troublesome body fat.
As the leading cosmetic plastic surgery procedure to slim and reshape areas of the body, you might be wondering, "What's liposuction recovery like?"
Liposuction is an easy, highly effective outpatient surgery, meaning you'll usually get to go home after treatment to recover. However, like with any cosmetic surgery, there is some downtime to be anticipated. If you've been contemplating body contouring procedures to achieve a more proportionate or shapely figure, here's what you need to know about liposuction recovery time, from consultation to post-op.
Ignore Common Misconceptions about Liposuction
As a Board-Certified Plastic Surgeon with over 22 years of experience as a Chelmsford Liposuction provider I've heard quite a few misconceptions from patients. The first misconception is that liposuction is for people lacking fitness or weight control. In reality, persistent body fat may be due to hereditary, or genetic, traits that are simply out of your control and not a lack of proper diet and exercise. Sometimes, it can be difficult to target a specific area of concern as well, despite staying active and maintaining a healthy diet.
Another common misconception I hear is that liposuction isn't as popular today with the rise of noninvasive alternatives, like CoolSculpting. This could not be more false! Liposuction remains the gold standard for fat reduction, in fact, surgical contouring procedures like liposuction have increased by 63% since 2020. Liposuction was the top surgical procedure of 2021, and the average plastic surgeon performed nearly 30% more liposuction procedures than in previous years. It has even been named one of the top five most popular procedures for men!
Lastly, many patients assume that liposuction is dangerous or not suitable for older people. While every invasive surgery carries a degree of risk, liposuction is a very safe and effective procedure when performed on the appropriate patient taking the appropriate precautions to optimize safety. Age is not a sole criterion and must be considered along with a patient's overall health. Ideally, a patient should be healthy without any medical conditions that could compromise healing or recovery. As a board-certified plastic surgeon, I can guide you as to whether you are a good candidate for surgery.
Liposuction Planning and Recovery Timeline
Step 1: Schedule a Phone Consultation
If you're thinking, "I wish I could get rid of this muffin top before summer," you've likely already begun liposuction research. I always recommend looking for a Board-Certified Plastic Surgeon — like myself, Dina Eliopoulos, MD. You can call or email my office, where we will connect you to our Surgical Care Coordinator. She will gather information about your goals and your health to help determine your candidacy for liposuction vs another procedure. During your phone consult, she will give you details about the procedure, recovery, downtime, and approximate cost before scheduling your one-on-one consultation with me. This initial step helps guide my patients to learn more about the procedure so they will be better prepared for their in-office consultation.
After completing your phone consultation, you'll complete new patient paperwork & may be asked to submit photos of your areas of concern through our online HIPAA-compliant platform, Klara.
Step 2: Your Consult Day is Here!
On the day of your consultation, you will initially meet with our Surgical Care Coordinator to review your goals and give you some more information about the procedure of interest.
Next, you'll meet with me! I'll use this time to perform a full evaluation and recommend the treatment plan to help you achieve your goals. We will talk more in-depth about the procedure including risks & benefits. After all your questions have been answered, you will meet with our Surgical Care Coordinator for a formal cost analysis and place a deposit to secure your date for surgery. At that point in time, you'll return home with a packet of information about your procedure and how to prepare in the coming weeks.
Step 3: Your Surgery is Scheduled
At DinaMD, your safety is our priority. Prior to surgery, patients may require blood work, or possibly medical clearance from their primary care physician, in order to make sure they are well-optimized for surgery. We will guide you every step of the way as to what is needed.
Step 4: Pre-Op Visit
Pre-op is short for pre-operation and refers to activities that must take place before you undergo your liposuction procedure. Patients will return to the office within 30 days of surgery for their pre-operative visit. At this appointment, you will meet with one of our nurses who will prepare you for the surgery. At this point, we'll send you home with your pre & post-operative instructions, and will inform you of any prescriptions that will be sent to you prior to surgery at this time. They will remind you about things to do in preparation for surgery, such as; staying healthy, limiting exposures to illnesses, eating a healthy diet, getting sleep, staying well hydrated, avoiding blood thinners, and using an antiseptic body wash in the few days leading up to surgery to decrease bacteria on the skin. They will also review with you the postoperative instructions. With this process, my patients feel very prepared for their liposuction procedure.
Step 5: Begin At-Home Product Treatments
Once you've been cleared for surgery, you can get a head start on your liposuction recovery by using Alastin ReFORM & RePAIR Complex with Tri-Hex Technology(R) starting two weeks before the procedure. This product is a topical cream to assist with surgical recovery by clearing damaged elastin and collagen from the treatment area, and minimizing the appearance of bruising and scars.
Step 6: Your Big Day Has Arrived!
Your big day is finally here! Whether your procedure is in our office, or in the hospital setting, I will meet with you before we begin the procedure. I will mark all the areas that will be treated to help guide the surgery. (In-office procedures do not have an anesthesia team)
After your surgery is complete, you will recuperate in the recovery room and hopefully, within about 2 hours, you will be discharged home. For larger volume liposuction cases, we prefer to have patients stay one night in the hospital for comfort and observation.
Step 7: First Day of Recovery
As you could imagine, the hardest day for recovery is the first day. Fortunately, liposuction discomfort is typically mild, and you will probably do well with over-the-counter medications such as Tylenol. However, if needed, stronger medication will be prescribed for a few days. You will be wearing a surgical compression garment, which provides comfort and helps with swelling. Bruising is typically mild with the help of the compression garment. We want you up and moving around, gentle walking is encouraged but, it is important not to do anything that will drive up your heart rate or blood pressure.
Step 8: Week One of Recovery
Follow-up appointments are the key to maximizing recovery and minimizing complications. You will have your first follow-up appointment one week after your procedure to remove any sutures or drains. Depending on the progress of your recovery, most patients are only out of work for one week or less.
You will remain in your compression garment for 4 to 6 weeks and continue to follow activity restrictions during that same time.
At this stage, I'll recommend a scar care treatment program, including continued use of Alastin ReFORM & RePAIR until the container is finished and a series of Fractional 1540 Laser treatments.
Step 9: First Month of Recovery
You can anticipate your next follow-up appointment around 4 to 6 weeks post-op. By this time, you will start seeing improvements in your contour. You will be excited to stop the surgical garment and resume your exercise and lifestyle routines.
Step 10: Enjoy Your Amazing New Figure!
By 3 to 6 months after your procedure, you've completed your liposuction recovery! We will have you visit us to see what you think about your results and guide you on any additional treatments you may be interested in.
Ready to Begin Your Liposuction Journey?
Has stubborn body fat begun to impact your self-confidence when you look in the mirror? Say goodbye to unwanted fat deposits with a liposuction procedure performed by a trusted Board-Certified Plastic Surgeon. Recognized for our surgical excellence and unrivaled eye for detail, we guide patients through every step of their liposuction experience for ultimate results.
Schedule your consultation today to take the first step in your liposuction journey.