Maintain Your Summer Glow with These 3 Skin Treatments
Kick off summer with a healthy, rejuvenated glow
June 6, 2022 — by Dina Eliopoulos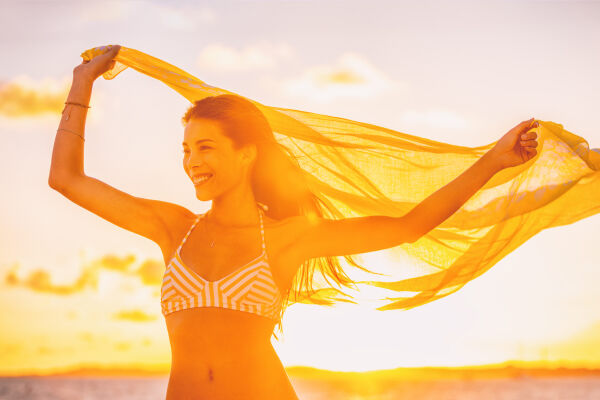 Summer is a time of warm weather and relaxation, but it's not the time to take a vacation from your skincare! In fact, the more time you spend outside means more sun exposure, which can damage your skin if not correctly protected. As a result, it's important to prioritize your skincare during these summer months to reduce the formation of dark spots, wrinkles, and sagging skin, as well as decrease your risk of developing skin cancer.
As you transition to your at-home summer skincare regimen, I recommend the following medspa treatments to help you kick off summer with a healthy, rejuvenated glow and maintain it throughout the summer months.
What Happens to Your Skin in the Summer?
Although many people find improvements in their skin during the summer thanks to the anti-inflammatory effects of UV light, or softer skin resulting from the increased humidity, sun exposure has its downside. In fact, ultraviolet (UV) rays are responsible for 90% of the visible signs of aging on your skin. If you're not taking the proper precautions, sun exposure can damage your skin, speed up the signs of aging, and in the worst case, increase your likelihood of developing skin cancer.
The most common skin concerns developed during the summer months include:
Premature signs of aging, such as fine lines, wrinkles and sagging skin as UV rays weaken your skin cells and damage the connective fibers
Hyperpigmentation, such as sunspots and melasma, resulting from your skin's melanin (pigment responsible for your skin color) clumping together after prolonged sun exposure
Oily skin (especially the t-zone) due to trapped dirt and skin cells, which can also cause breakouts
Dry, dull skin, as a result of dehydration, heat, and chlorine
Treatments to Maintain Healthy Skin in the Summer
The good news is that while not all medspa treatments are appropriate for sun-kissed or tan skin, there are treatments that are specifically beneficial in the summer months. These treatments promote cellular turnover and protect against further sun damage, helping you to keep a healthy, glowing complexion.
#1 Morpheus8 RF Microneedling
For many sun worshipers, a summer perk is achieving that coveted summer glow – healthy, luminous, and radiant skin!
To keep your skin looking young and healthy, I recommend taking a traditional microneedling treatment to the next level with Morpheus8 RF Microneedling. If you've had a microneedling treatment before, Morpheus8 provides the same benefits but even greater given the use of fractional radiofrequency (RF).
The addition of RF stimulates the skin to boost collagen and elastin production. Collagen gives your skin volume and elastin provides elasticity, which is the ideal combination for more youthful-looking skin. Additionally, the treatment will help reduce the appearance of acne scars, as well as active acne, fine lines and wrinkles if they are of concern.
#2 DiamondGlow™ Facial
The DiamondGlow® Facial is a next-level, noninvasive skin-resurfacing treatment, designed to deeply clean and rejuvenate the skin. Through the process of exfoliating, cleansing, and infusing the skin with a customized combination of serums, the DiamondGlow Facial delivers radiant, healthy-looking skin.
During the summer months, you can enjoy the benefits of:
Exfoliation: Using a unique diamond tip wand, the treatment removes sun-damaged skin cells from the surface of your skin to reveal the newer, healthier skin below for an overall brighter reflection.
Detoxification: Using high-power suction, the treatment removes dirt and dead skin cells from your pores, opening clogged pores and allowing your natural oils to flow more freely. If breakouts are a concern, I find this treatment is beneficial in controlling the intensity and frequency of flareups.
Hydration: During this next step, we infuse your skin with a customized combination of serums that address your unique concerns, whether it's a vitamin C serum for skin health or a hydrating serum for dry skin. As a result of this entire process, your skin's permeability improves, making it more receptive to your skincare regimen and increasing its ability to absorb and retain moisture.
#3 Chemical Peel
A chemical peel is a chemical exfoliant treatment used to remove dead and damaged skin cells. Having a peel at the start summer is an effective way to remove the top layer of dead skin cells that built up during winter. It's also a safe and effective treatment for the summer months as it can heal sun damaged skin. Whatever time you choose, a chemical peel helps to reduce pore size, improve skin texture, minimize fine lines, and address hyperpigmentation.
Not all chemical peels are same as we customize each one to target specific skin concerns at varying depths.
Light peels: Use mild acids, such as alpha-hydroxy acid, to gently exfoliate only the outer layers of skin and improve mild skin issues, such as light hyperpigmentation, mild fine lines, acne scarring, and dull skin.
Medium peels: Use trichloroacetic (TCA) or glycolic acid to penetrate deeper, reaching both the middle and outer layers of skin and improving more noticeable skin issues, such as mild hyperpigmentation, uneven skin tone, acne scarring, and fine lines and wrinkles.
Deep peels: Use stronger acids, such as phenol or trichloroacetic acid, to fully penetrate the middle layer of skin to treat moderate skin issues, such as significant hyperpigmentation, deep lines and wrinkles, acne scarring, and sagging skin.
One of the latest peels that I'm excited to offer at the Center for Plastic Surgery is the PRX Chemical Peel. This peel combines 33% TCA + Hydrogen Peroxide and there is NO peeling with this treatment. I also like the fact that it:
Is safe for all skin types: Fitzpatrick 1-6
Targets aging skin, texture, laxity, wrinkles, and dull skin for complete rejuvenation on the face or body
Stimulates the skin's regenerative process
Is non-photosensitizing, meaning it's appropriate for summer months
Provides immediate and long lasting results
Evaluate Your Skincare Routine
Healthy skin and a beautiful complexion don't start and end with these recommended medspa treatments for summer. It's important to have a professional grade, at-home skincare routine as well. As the weather changes, it's important to evaluate and adjust your skincare routine accordingly. There are also some products that you may want to avoid if you are getting a good amount of sun. For example, your retinols will make you more sun sensitive so you might want to take a break from them. Therefore, you may want to bump up some of your other home products!
Some of our favorite products from ZO® Skin Health for the summer include:
Complexion Clearing Program: This 4 product regimen minimizes oil, cleanses pores, and reduces future breakouts. It includes the Exfoliating Cleanser, Exfoliating Polish, Complexion Renewal Pads, and Complexion Clearing Masque.
Skin Brightening Program: This 5 product regimen reduces discoloration, improves skin tone, and brightens the skin. It includes the Gentle Cleanser, Exfoliating Polish, Complexion Renewal Pads, Daily Power Defense, and Brightalive.
Daily Power Defense: This serum improves the skin's protective barrier while boosting collagen and hyaluronic acid production.
Brightalive: This advanced skin brightener blocks new pigmentation from forming while improving skin clarity and reducing the appearance of dark spots.
Growth Factor Serum: This serum uses plant and enzymatically derived growth factors to boost collagen and hyaluronic acid, soften fine lines and wrinkles, restore the skin's protective barrier, and soothe irritated skin.
Schedule Your Consultation Today
Although the summer sun can take a toll on the appearance of your skin, proper skin care treatments, such as a chemical peel, Morpheus8 or a Diamond Glow facial, combined with an at-home regimen, can help reduce signs of damage while helping you achieve that coveted summer glow.
During a thorough consultation process, Boston area Medspa treatment provider Dr. Eliopoulos and her team will work with you to develop a personalized skin care treatment plan based on your needs. For more information, schedule your consultation today.