Your Skin Care Consultation with our Medical Esthetician, Andrea Chambers
Aug 12, 2013 @ 11:00 AM — by Dina Eliopoulos
Your Skin Care Consultation here at the Center for Plastic Surgery,
by Andrea Chambers, Medical Esthetician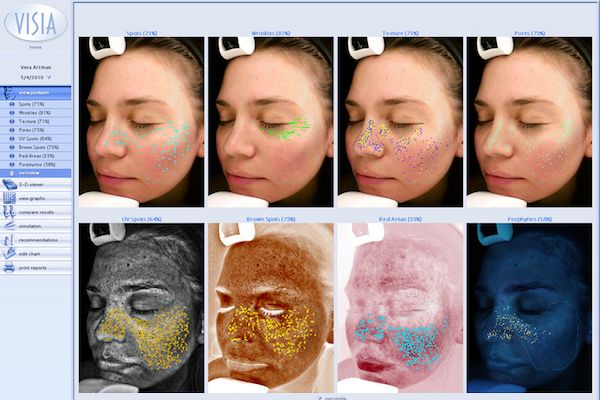 I hear from patients all the time how they have things about their skin they wish they could change or improve. But there are so many options out there between different treatments and different products that most of the time they just don't know where to start. I can completely understand this frustration and confusion. Every where you look whether it's on TV or in magazines, I'm always seeing something "new" and "the next best thing" all claiming to be great for everyone's skin. Yes, there are many amazing treatments and products out there on the market. But quite honestly, just like all of us, one size does not always fit all, and it's best to sit down with a Medical Esthetician and see what's best for you and your skin and consider your goals.
I encourage my patients to do just this. My patients and I sit and have an in depth Skin Care Consultation. The first thing I ask my patients is, "What do you like and dislike about your skin?" I find it important to not only ask what they don't like, but also what they do like. This is important because I would never want to change a particular feature of someone's skin they were happy with. For example, not everyone wants to get rid of their freckles or sometimes patients like the smile lines around their mouth. We look together in the mirror, and they can show me what they see. Once we have established their likes and dislikes, I obtain a thorough skin history including any medical conditions, skin conditions, allergies, medications, current skin regimens, prior treatments, etc. Next, I will closely examine the skin and let the patient know what I see. Finally, I will take very intricate photos of each patient using our VISIA Skin Analysis System. I will position my patient's face in the "photo booth" and obtain very clear images of the skin. The VISIA System will conduct an analysis of the skin to give us information not only about the surface of the skin but also deep below the surface where we can't see with the naked eye or with a typical camera. We can evaluate different features of the skin including pigmentation and sun damage, vascularity redness, lines, texture, pore size, bacteria, and more. This process is never done to pressure a patient or make them feel bad about their skin, but rather to educate and show them the benefits of certain products and or treatments I can offer them to help achieve their goals.
Once we have reviewed the results from my examination along with the photos from the VISIA Analysis, I can advise a patient of my recommendations. Together with the patient, we formulate an individualized treatment plan. I find it important to have patients input during this process. Just because a certain treatment plan will be effective for someone does not always mean it will fit into a patient's schedule or budgetary restraints. I try to provide more than one option because all patients have different wants, needs, skin, and specific goals. I find it extremely important to consider all of this while advising a skin care treatment plan. Often our plan consists of a combination of skin products which can be supplemented with in-office skin treatments. At our Chelmsford Med Spa and plastic surgery center, we are able to offer patients multiple treatment options including clinical facials, Microdermabrasion, a variety of Chemical Peels with varying strengths, and state of the art light based therapies like Intense Pulsed Light or Photorejuvenation and Laser treatments including Laser Hair Removal, Laser treatment of Leg Veins, and UltraPulse Fractional CO2 Laser Resurfacing. Facial rejuvenation can also be enhanced with treatments like Botox and Injectable Fillers. Dr. Eliopoulos and our Nurse Sarah are available to talk with patients further about some of these treatments as well.
By the time you leave the office you should know what your best treatment options are moving forward. I hope that all patients leave their consultation feeling educated about their skin and how they can improve it, and feeling confident and comfortable that I will take great care of them. In addition, they hopefully will realize that along with myself, they have access to a great team here including Dr. Eliopoulos, Sarah our Nurse, Erin our Patient Coordinator, and Lori our Practice Manager, who are all available to them as great resources and who are eager to help make their experience here the best that it can be.
Andrea Chambers, Medical Esthetician at the Center for Plastic Surgery, Chelmsford, MA