Arm Lift Boston
Chelmsford Brachioplasty Specialist
An Arm Lift or Brachioplasty commonly desired after dramatic weight loss which often results in loose excess skin in the upper arm. Unfortunately, exercise can not solve this problem. Fortunately, Dr. Eliopoulos, one of the top Chelmsford brachioplasty specialists can give your upper arm a more toned and defined appearance.
Please view Dr. Eliopoulos' arm lift before and after results. These are actual patients.
What is an Arm Lift?
An arm lift is a surgical procedure that alters the area under the upper arm to improve contour. The procedure can reduce excess sagging skin and pockets of fat while tightening the underlying supportive tissue in the upper arm from the axilla to the elbow.
Top 10 reasons for an Arm Lift
There are many reasons why our patients decide to get an arm lift:
Arms will be more proportionate to the rest of their body
Can do sports activities without embarrassment
Enhance the tone and shape of their upper arms
Fit more comfortably in their clothes
Helps to be more active (arms less heavy)
Improved contours
Improve their self-confidence
Remove excess skin and fat
More freedom to wear sleeveless clothing with confidence
Come full circle with their weight loss journey
Brachioplasty Procedure
Dr. Eliopoulos performs an arm lift under general anesthesia, which means you will be asleep and comfortable during your procedure. Patients are typically able to go home after the procedure unless they are combining their Brachioplasty with another surgical procedure.
Dr. Eliopoulos will first remove excess fat in the upper arm with Liposuction followed by removal of the excess skin from your underarm to your elbow resulting in a scar that will run along the undersurface of your upper arm. The scar is strategically placed so it will not be visible on the frontal view with your arms down by your side or extended out to the side.
In this way, Dr. Eliopoulos can tighten and reshape the tissue in your upper arm. The results are often dramatic!
What to Expect in a Consultation
Dr. Dina Eliopoulos has nearly 2 decades of experience as a board-certified plastic surgeon, with a reputation for dedication, surgical excellence, and professionalism. The purpose of her consultation is not to "convince you" to undergo a procedure, but to learn about your goals and educate you on your surgical options.
Schedule a Consultation Today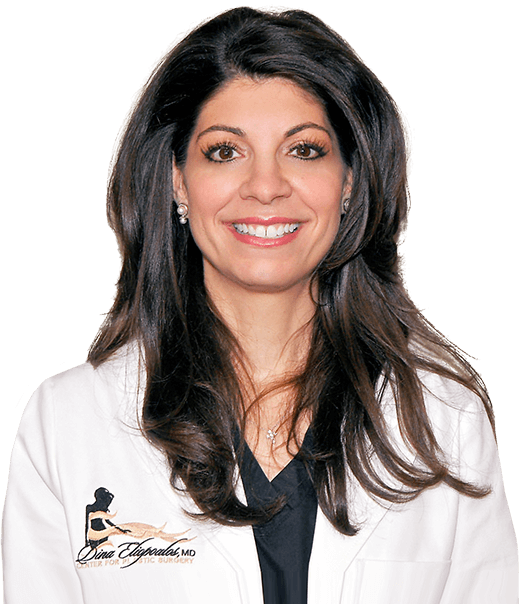 What to Expect During Your Consultation
During your consultation, you will meet with Dr. Eliopoulos and learn about the arm lift procedure and what it will entail. You can bring your questions to ask Dr. Eliopoulos and allay your concerns. Boston Brachipolasty provider Dr. Eliopoulos' goal is to make you feel safe and well informed about your surgery.
Dr. Eliopoulos will review your current health and explore your medical history as part of your consultation. She will make sure she understands your goals. She will determine if you are a good candidate for the procedure based on your physical exam as well. She will make some preoperative recommendations, including any adjustments to your current medications and supplements. You will also learn about the postoperative course, as well as potential risks and benefits of the procedure. You will also find it very helpful to review before and after pictures of Brachioplasty patients of Dr. Eliopoulos. At the end of the consultation, you will hopefully have good expectations of what you can achieve with this procedure.
You will be in great hands with Dr. Eliopoulos, who has two decades of experience as a board-certified plastic surgeon. She is dedicated to her patients and goes out of her way to make the procedure safe and seamless. Dr. Eliopoulos provides a comfortable environment.
Arm Lift Before & After Photos
See Dr. Eliopoulos' arm lift before and after results. It is important to look at before and after images to get an idea of what can be achieved with a surgery and to help guide the process with the doctor.
Brachioplasty FAQs
Am I a good candidate for an arm lift?
If you are in good physical health, have maintained a stable weight, and looking to improve the appearance of your arms, you are a good candidate for a successful Brachioplasty. You should also have enough skin laxity in your upper arm.
What are the risks of an arm lift?
A Brachioplasty is a safe procedure with a low incidence of complications. As with any surgery, there are possible risks such as infection, bleeding, blood clots, swelling, seroma, poor scarring or healing issues. Dr. Eliopoulos will discuss these with you.
Will there be a scar?
Patients who choose this procedure understand the trade-off of a scar for the dramatic improvement in arm contour. Dr. Eliopoulos will do her utmost to minimize your scar and place it in such a way to limit its visibility in the most common positions. She will also make recommendations to help the scar postoperatively, including topical scar care and laser treatments available.
What are the results of an arm lift?
You will see immediately smoother and tighter contours after your procedure. Your final results will last a long time if you maintain a good exercise plan and keep a stable weight. Keep in mind that your skin will continue to lose some firmness as you age.
Brachioplasty Recovery
Dr. Eliopoulos will discuss with you how to handle your recovery. Depending on the type of work that you do, you should be able to return to work within a couple of weeks and back to your normal activities after six weeks.
Here are some tips:
You may feel some discomfort for a few days. Numbness to the skin in expected and gradually resolves.
You can expect some bruising and swelling for a few weeks.
Your incisions are closed with dissolvable sutures beneath the skin.
A temporary drainage tube may be placed in your arm to drain any build up fluids.
Wearing a compression garment will help minimize swelling and adds comfort.
You will need to avoid strenuous exercises for about 6 weeks
Try to keep your arms straight and elevated as much as you can during your recuperation
It is best to not be in direct sunlight so that your scar does not become too dark or for your skin, developing irregular pigmentation
We will let you know which medications you can take after your procedures
Stop smoking because it slows down the healing process and increases your risk of scarring or infections.
To learn more about your options for an arm lift surgery, please contact the Center for Plastic Surgery in Chelmsford today to get all the information you need for a Brachioplasty. We look forward to meeting you in person and helping you get the best Brachioplasty Boston, MA has to offer.