Liposuction
in Boston, MA
Sculpt Away Your Stubborn Fat
Whether it's your belly, your arms, your thighs, or your hips, liposuction can take that stubborn fat and banish it! Sometimes stubborn fat just won't go away no matter what you try. For others, getting to the gym daily is not possible. No matter what your particular situation is, liposuction may be an incredibly effective and life-changing option. Particularly with a board-certified plastic surgeon who specializes in body contouring, the outcomes of liposuction can be stunning and provide a sculpted and balanced result.
Please view Dr. Eliopoulos' liposuction before and after results. These are actual patients.
Liposuction with Dr. Dina Eliopoulos
Boston plastic surgeon Dr. Dina A. Eliopoulos, with over 20 years of experience and honed aesthetic skill, is committed to achieving excellence in every procedure, including liposuction. At our state-of-the-art facility, patients who have chosen to undergo liposuction can enjoy expertly sculpted bodies and seamless silhouettes. As a Boston liposuction provider serving patients in MA and NH, Dr. Eliopoulos and her team place great emphasis on educating patients throughout the aesthetic treatment process, empowering them to make well-informed decisions about their treatment plan.
Whether you are considering a smaller liposuction procedure done in the office comfortably with local numbing only, or a multi-area larger volume liposuction procedure under the comfort of anesthesia, Dr. Eliopoulos has you covered and has expertise in all areas of liposuction.
What is Liposuction?
Liposuction is a cosmetic plastic surgical procedure that aims to remove unwanted pockets of fat from various areas of the body. As a popular and safe procedure, it is frequently offered by plastic surgeons to help patients achieve a more contoured, aesthetically pleasing body shape. The procedure involves making small incisions in the targeted area and inserting a cannula (a thin, hollow tube) to suction out the excess fat. The amount of fat removed depends on the individual patient's needs and desired outcomes. Advancements in technology have made liposuction even safer and more effective than in the past, and there are a variety of techniques and methods used to enhance effectiveness based on the patient.
What are the benefits of Liposuction?
Video: Liposuction
Liposuction is a popular way to remove pockets of localized fat that don't respond to diet and exercise. Dr. Eliopoulos most frequently uses traditional liposuction, which she often performs in conjunction with other surgical procedures. She offers alternatives, including laser assisted liposuction, which is effective for smaller areas of fat and can be performed in the doctor's office without anesthesia. Another method is radiofrequency treatment, which targets fat externally and is completely non-invasive.
Enlarge
View All
Liposuction can help to improve the contour and appearance of the body, leading to a boost in self-confidence and overall quality of life. Some of the key benefits of liposuction include being able to:
Reshape and contour the body by removing unwanted fat from areas such as the abdomen, thighs, hips, buttocks, and arms.
Remove stubborn fat and improve self-confidence and body image.
Improved physical health; liposuction may have health benefits like reducing the risk of obesity-related health conditions.
The procedure can improve mobility and may improve motivation to maintain those changes through continued healthy eating and exercising.
With a more streamlined body shape, clothing may fit better and more comfortably.
The results of the procedure can be long-lasting with proper diet and exercise habits.
Am I a candidate for Liposuction?
Some of the main considerations for eligibility include the patient's general health, whether they are close to their goal weight, and if they have a sufficient amount of skin elasticity for a successful result. Optimal results are achieved when there is good tissue tone without significant laxity or excess skin. If these conditions exist, Dr. Eliopoulos may instead recommend adding in some tissue tightening in conjunction with liposuction by using BodyTite™ which is radiofrequency assisted liposuction. If more significant excess skin exists, such as with dramatic weight loss or after pregnancies, she may recommend direct excision of this skin and underlying fat with procedures like Abdominoplasty (Tummy Tuck). We want to be sure the patient also has realistic expectations for the outcome of the procedure. Some of the concerns that can be addressed with liposuction include:
Stubborn pockets of fat that are resistant to diet and exercise.
Areas of the body that are disproportionate to the rest of the body, such as a "spare tire" or "love handles."
Easy add-on procedure to complement another procedure also being considered, such as tummy tuck or breast augmentation.
Consultation and Preparation
At a consultation, Dr. Eliopoulos will ensure that she takes time to get to know you and your aesthetic goals and to fully inform you about each option and method available. She will perform an examination of your areas of concern to ensure you are a good candidate for the procedure. Depending on your health history and the extent of liposuction planned, preoperative optimization may include limited blood work or medical clearance from your PCP. Since liposuction is minor surgery, you may be required to have lab work done. We will ask that you cease certain medications, avoid anti-inflammatory meds, prior to your appointment. Also, healing is always more optimal if you quit smoking.
Schedule a Consultation Today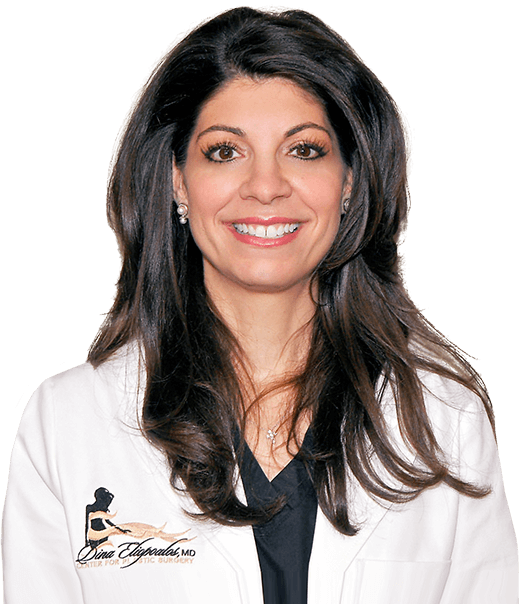 "Deciding to undergo liposuction surgery was a huge decision for me. Having gone to another Plastic Surgeon for a consultation, I was hesitant and doubtful with going forward. Upon meeting with Dr. Eliopoulos, my decision was made. Her warm and caring manner immediately put me at ease. I am extremely pleased with my results. I wouldn't think of going to anyone else for any procedure. I would highly recommend Dr. Eliopoulos!" EE, Age: 49, Attorney, Haverhill
Can I combine Liposuction with other aesthetic procedures?
Definitely! Liposuction is often used as a complementary procedure along with other surgical techniques. Tummy tucks, breast surgeries, and mommy makeover commonly are performed in conjunction with liposuction, for a comprehensive and refined result. Combining procedures also means a single anesthesia experience and a single recovery period.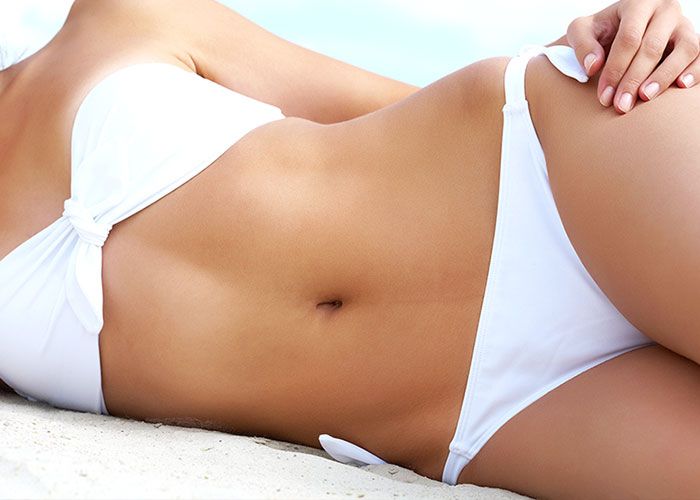 Procedure
Liposuction has a few different methods and techniques that your doctor can choose from, depending on the volume of fat targeted for removal and the specific needs of each patient.
Smaller volume liposuction (2 liters or less) can often be performed right in the doctor's office, with local numbing medicine and light sedation. This option is great for a single body area, such as the average-sized abdomen or love handles, and is ideal for patients who prefer to avoid general anesthesia. During the procedure, tiny incisions are made in the skin, through which a thin tube called a cannula is inserted to suction out the fat. This leaves minimal scarring and a smoother, more contoured appearance.
Traditional liposuction can be used by itself for smaller volume liposuction, or the procedure can be performed using BodyTite to get additional tightening. BodyTite is a minimally invasive radiofrequency-assisted liposuction (RFAL) technique that can help tighten the skin in addition to removing excess fat. This method is particularly desirable for achieving great results in areas like the abdomen, neck, or upper arms.
For volumes over 2 liters, Dr. Eliopoulos prefers to perform the procedure under general anesthesia for safety and patient comfort. This can be done as an outpatient typically, but for larger volume liposuctions approaching 5 liters, or if liposuction is going to be done in conjunction with multiple other cosmetic procedures such as tummy tuck or breast surgery, an overnight stay for monitoring, safety, and comfort may be recommended.
Regardless of the method used, tiny incisions are made through which the liposuction cannula is inserted, and fat is suctioned away carefully to sculpt the area. These small access incisions leave minimal scarring, and patients can expect to see a significant improvement in their body contour and shape.
360 Liposuction
This technique refers to a method of liposuction that encompasses or "wraps" the entire mid-body and often includes the abdomen, back, waist, hips, and bra roll area. One unique benefit of 360 liposuction is that it can achieve a more comprehensive body contouring result than limiting the procedure to just one body area. Another benefit of 360 liposuction is that it can produce long-lasting results with proper postoperative care. While recuperation will be a bit longer, patients love getting that "wow" result in one procedure rather than coming back for several staged procedures, which in the end saves them cost and downtime.
Recovery, Results, and Aftercare
After liposuction, you will be sent home with a compression garment, and you may feel sore or tender for a few days. If you undergo a smaller volume liposuction, you will typically resume your daily tasks immediately, and return to work within a few days. If more significant volumes of fat are being removed, you may need a week before returning to work. Dr. Eliopoulos and her team will guide you postoperatively, including instructions on topical products and massage. Typically, patients begin to see initial results within a few weeks of surgery. By your 4-6 week postop visit, you will be excited to no longer need the compression garment and can resume exercising fully. Your results will continue to improve as final bits of swelling resolve over the next few months.
Liposuction Before & After Photos
See Dr. Eliopoulos' liposuction before and after results. It is important to look at before and after images to get an idea of what can be achieved with a surgery and to help guide the process with the doctor.
Why Dr. Eliopoulos?
Dr. Dina Eliopoulos is dedicated to her patients, and this is exemplified by her commitment to providing outstanding care and unmatched service. A board-certified plastic surgeon in Boston, helping patients in MA, NH, and the surrounding areas, her reputation stems from a combination of her surgical excellence, professional standards, and genuine demeanor. In addition to her precise work and attention to symmetry and balance, she is also a skilled listener who takes the time to truly understand the needs and desires of her patients.
Schedule Your Boston, MA, Liposuction Consultation with Dr. Dina Eliopoulos Today
Call us today at (978) 275-9440 or easily and conveniently schedule your consultation online!
FAQs
Is Liposuction painful?
You will likely experience some soreness and mild discomfort during the first few days of your recovery period. But this is very tolerable, and typically, patients can get by with over-the-counter medications such as Tylenol if needed.
What are the risks associated with Liposuction?
Certainly any procedure, whether surgical or non-surgical, has potential risks. Liposuction is commonly performed and is considered very safe. Dr. Eliopoulos will guide you both preoperatively and postoperatively to minimize risk and optimize your results. She will review in depth with you the risks and benefits of the procedure at your consultation, so that you can make an informed decision to proceed. Some rare risks can include infection or healing irregularities.
Is Liposuction permanent?
Liposuction permanently removes fat cells from targeted areas, but it's important to maintain a healthy lifestyle to prevent remaining fat cells from expanding. Your future lifestyle choices will play a crucial role in maintaining the results of your body contouring procedure over time.
Will there be scarring following Liposuction?
Since it is performed through tiny incisions, scarring is typically very minimal.
Will I lose weight with Liposuction?
While the fat is absolutely being removed during this procedure, liposuction is not considered a weight loss method. Rather, it is a body contouring procedure designed to reshape and sculpt your figure. That being said, patients who undergo larger volume liposuction procedures, with or without additional body contouring procedures such as Tummy Tuck, often do notice a decrease in their weight once swelling has resolved.
How much does Liposuction cost?
Since liposuction involves different techniques and possible areas of the body, the cost varies. To learn about liposuction and its cost, simply contact us, and you will be connected with our surgical coordinator who will gather a bit of information from you, give you some valuable information about liposuction along with the cost estimate, and then get you on to our consultation schedule! After meeting in person with Dr. Eliopoulos, she will create a customized treatment plan, and you will then be given all of the final pricing information and scheduling options.