Tummy Tuck Boston
Sculpt a Smoother, Flatter Abdomen
Despite efforts to achieve physical fitness and maintain a healthy diet, many individuals are unable to shed stubborn excess fat in the midsection. Pregnancy, weight fluctuation, heredity, and aging can all contribute to the accumulation of fat in the abdominal region, which can leave the midsection loose, sagging, and undefined.
Please view Dr. Eliopoulos' tummy tuck before and after results. These are actual patients.
Abdominoplasty Boston
When diet and exercise fail to deliver the flat, toned midsection you have been striving for, a tummy tuck may be the best option. Looking for a tummy tuck Boston residents? Contact Dr. Eliopoulos to set up a consultation at the Center for Plastic Surgery, serving upper Massachusetts and lower New Hampshire. Dr. Eliopoulos is dedicated to delivering exceptional results with an unmatchable quality of patient care.
What is a Tummy Tuck?
Video: Patient Testimonial, Tummy Tuck
Dr. Eliopoulos says the Tummy Tuck is a great body sculpting procedure, since the abdomen is a common place where patients accumulate loose skin. Exercise is ineffective on post-pregnancy stretched skin and muscle, and the tummy tuck can take care of this problem with immediate results. One Boston tummy tuck patient had lost over 100 pounds, but was feeling unattractive because of extra skin and folds remaining after the weight loss. After her tummy tuck, she says she feels "amazing."
Enlarge
View All
Tummy tuck surgery, also known as abdominoplasty, ranks among the most popular plastic surgery procedures performed today. A tummy tuck contours and removes excess skin in the midsection, while restoring weak, separated abdominal muscles. By restoring the function of these muscles, a tummy tuck reveals a smoother, more defined silhouette. Often, Boston Tummy Tuck provider Dr. Eliopoulos will perform liposuction of other areas in conjunction with a tummy tuck to help achieve the best body contour possible.
Depending on your needs and goals, your surgeon will perform one of two types of tummy tuck surgery:
Complete Abdominoplasty
During a complete abdominoplasty, an incision is made from hipbone to hipbone, at approximately the same level as the bikini line. A second incision around the navel is necessary when there is considerable excess skin and fat in the upper abdomen as well. Your surgeon will make every effort to make the incision sites as discreet as possible, so that resulting scars may be hidden beneath underwear and bathing suits.
The surgeon will then re-contour the skin and tissue of the abdominal region, and restore separated abdominal muscles. Surgical tightening of the rectus abdominal muscles that have become splayed apart due to weight fluctuations or pregnancy creates a sleek flat abdominal contour. Excess skin and fat in the lower abdomen will then be completely removed. Ultimately, the belly button must be separated from its surrounding tissue and is brought through a new opening. This gives the belly button a tighter refined shape. Imaging ridding yourself of all that excess skin and fat from the navel to the bikini! The results can be truly amazing! Dissolvable sutures will be used to close the incisions. Drainage tubes will be inserted under the skin for a period of several days to aid in the healing process.
Partial/Mini Abdominoplasty
If a patient requires less comprehensive abdominal reshaping, a partial tummy tuck may be the answer. If the excess skin and fat are primarily located below the navel, a shorter incision may be required to remove the necessary tissue, and the belly button will stay in its original location. Because patients undergoing a partial abdominoplasty require only a moderate amount of correction, the abdominal muscles may not need tightening.
What to Expect in a Consultation
Dr. Dina Eliopoulos has nearly 2 decades of experience as a board-certified plastic surgeon, with a reputation for dedication, surgical excellence, and professionalism. The purpose of her consultation is not to "convince you" to undergo a procedure, but to learn about your goals and educate you on your surgical options.
Schedule a Consultation Today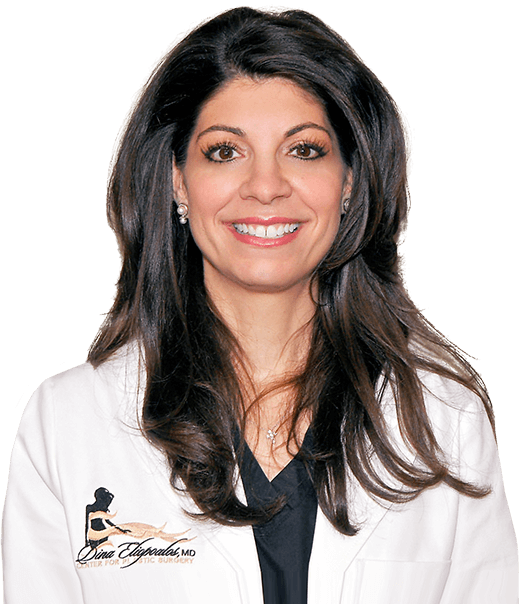 "My tummy tuck surgery with Dr. Eliopoulos was the best decision I ever made. I found Dr. Eliopoulos, she was very open and honest and made me feel wonderful. I finally have closure and feel like I can do anything again. And now I'm taking even better care of myself and it's affecting those around me. My friends say I glow. Thank you Dr. Eliopoulos!" Gwen, 40, Sales Manager
Tummy Tuck Before & After Photos
See Dr. Eliopoulos' tummy tuck before and after results. It is important to look at before and after images to get an idea of what can be achieved with a surgery and to help guide the process with the doctor.
After the Tummy Tuck
After the abdominoplasty, your surgeon may request that you wear a compression garment designed to reduce post-surgical swelling and provide support to your abdomen as it heals. In addition, draining tubes will have been inserted under the skin during surgery; these will need to be removed after a period of seven to ten days. You will also be advised to limit physical activities for approximately six weeks.
After healing from the procedure, Boston tummy tuck patients should be committed to maintaining their results through a healthy balance of diet and exercise.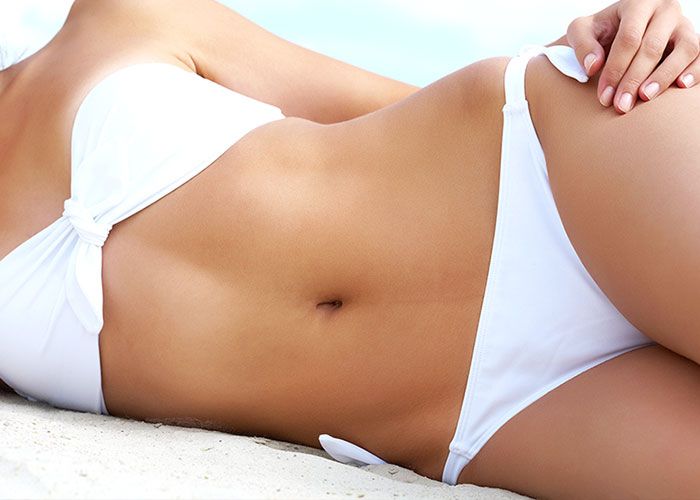 Learn More about Tummy Tuck Surgery
When searching for the right place to get a tummy tuck Boston men and women want someone they can trust. Dr. Eliopoulos expertly performs a tummy tuck NH residents can feel confident will look great. In fact, this is one of her favorite procedures to perform because of the dramatic results she can achieve! She finds it truly gratifying to help her patients come full circle with their body transformations after weight loss and pregnancy.
Dr. Eliopoulos is committed to helping patients meet their aesthetic goals with beautiful, natural-looking results. Contact the Center for Plastic Surgery to learn more about complete and partial abdominoplasty, or to set up a consultation.