Breast Surgery Boston
Get Beautiful Curves
Breasts are an asset to a woman's physique, giving the body an appealingly feminine shape. Because an attractive silhouette can make a woman feel more confident and comfortable, breasts are also a vital part of a woman's self-image.
Please view Dr. Eliopoulos' breast surgery before and after results. These are actual patients.
Breast Surgery NH and MA
Dr. Eliopoulos performs breast augmentation for women who want to enhance the shape and size of their breasts. Some women have underdeveloped breast tissue or a congenital abnormality that effects the appearance of their breasts, while others wish to restore lost volume after pregnancy or weight loss. Dr. Eliopoulos says today's breast implants are safe, and provide the pretty, natural-looking results that most patients seek. Dr. Eliopoulos also performs breast reconstruction for mastectomy patients.
Why Breast Surgery?
Video: Breast Augmentation
Pregnancy, weight fluctuation, aging, and heredity can lead to a loss of breast volume and tissue elasticity, leaving a woman feeling dissatisfied with her breasts. In order to regain a youthful, attractive bust, many women turn to breast augmentation surgery or breast reduction surgery.
Enlarge
View All
At our Center for Plastic Surgery that serves patients in Chelmsford and Boston breast surgery is one of many cosmetic procedures designed to help you achieve your aesthetic goals. Dr. Dina A. Eliopoulos prides herself on providing genuine, attentive patient care, and will work closely with you to deliver beautiful, natural-looking results. Contact the Center for Plastic Surgery today to set up a consultation.
Breast Augmentation Surgery
Women who want a fuller, shapelier figure may choose to enlarge their bust through breast augmentation. During this popular form of breast surgery, implants — typically silicone shells filled with saline solution or silicone gel — are inserted behind the breast tissue.
First, a general anesthetic is administered before the surgeon makes a small incision, either at the base of the breast or along the lower edge of the areola. Once the incision has been made, the surgeon will expertly create a pocket, typically under the pectoral muscle. Dr. Eliopoulos prefers to then temporarily insert implant sizers to most accurately determine what size implant will provide the best symmetry and volume desired for both breasts. After expertly inserting the final implants, she will close the incisions with dissolvable sutures.
A breast enlargement can increase the size of naturally small breasts, or restore size and shape to a bust that has lost volume due to pregnancy or weight loss. Learn more about breast surgery by contacting the Chelmsford, Massachusetts practice of Dr. Eliopoulos.
Breast Lifts
A breast lift, also known as mastopexy, is an excellent way to restore and enhance the natural shape of breasts. Rather than surgically enlarging or reducing the breasts, breast lift surgery tightens the surrounding tissue to create firmer, smoother breast contours.
In order to perform this breast surgery, Dr. Eliopoulos may use a variety of incisions depending on the degree of excess skin. These could include a circular incision around the areola, vertical incisions descending to the breast crease, and possibly a horizontal incision hidden within the inferior breast crease. The underlying breast tissue is then lifted, reshaped, and tightened in order to create firmer, smoother contours, while the nipple and areola are repositioned to a more youthful height.
Because breast tissue may have lost elasticity due to weight fluctuations, pregnancy, age, or other factors, excess skin is removed. The remaining skin is tightened when the incisions are closed with sutures embedded deep in the breast tissue.
Often, patients may not only desire a more lifted appearance, but also an enhanced overall volume of the breast, with more fullness in the upper part of the breast than can be achieved with a breast lift alone. In these instances, Dr. Eliopoulos can effectively achieve these goals by combining breast augmentation with a breast lift at the same time.
Breast Revision and Breast Asymmetry
While breast augmentation and breast reduction are probably the most well-known breast surgery procedures, breast asymmetry and breast revision are necessary in cases of mismatched or misshapen breasts. Each of these conditions is correctable by a plastic surgeon like Dr. Dina Eliopoulos, who specializes in breast revision and breast asymmetry procedures.
What to Expect in a Consultation
Dr. Dina Eliopoulos has nearly 2 decades of experience as a board-certified plastic surgeon, with a reputation for dedication, surgical excellence, and professionalism. The purpose of her consultation is not to "convince you" to undergo a procedure, but to learn about your goals and educate you on your surgical options.
Schedule a Consultation Today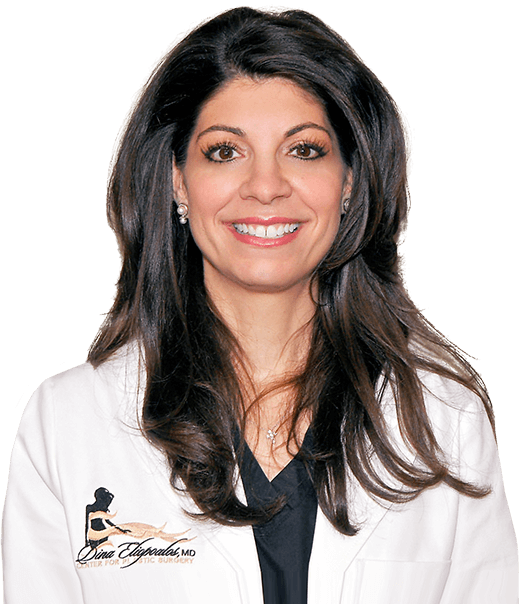 "I was referred to Dr. Eliopoulos by a friend who had a similar surgery. She raved about the professionalism and how happy she was with her results. My experience was the exact same. I cannot tell enough people how happy I am with my results. What made it even better was that Dr. Eliopoulos and her entire staff were more than helpful, comforting and extraordinarily professional!" B.C., Age: 36, Sales, Newburyport, MA
Breast Reduction Surgery
Many women with disproportionately large breasts not only feel self-conscious, but also endure physical discomfort. Large breasts can cause neck and back pain and make it difficult to participate in physical activities. In order to regain comfort and self-confidence, many women reduce and re-contour their chests with breast reduction surgery.
The incisions required for a breast reduction, also known as "reduction mammaplasty," are similar to those often required for a breast lift—around the areola, descending to the breast crease, and within the inferior breast crease. Because the pigmented areola of large breasts become particularly stretched, your surgeon will focus on reducing and repositioning the nipple area upward to a more rejuvenated position. Similar to a breast lift, breast tissue is reshaped and repositioned. But breast reduction surgery also reduces the excess fat, glandular tissue, and skin, resulting in a smaller, firmer bust.
Dr. Eliopoulos is an experienced, meticulous surgeon specializing in breast surgery. Contact her Center for Plastic Surgery in Chelmsford, Massachusetts, to request a consultation and take the first step toward the physical and emotional benefits of breast reduction surgery.
If your Primary Care Physician is referring you for Breast Reduction surgery due to medical necessity, please complete our BREAST REDUCTION PATIENT QUESTIONNAIRE and submit it to our office along with the necessary medical documentation.
Breast Surgery Before & After Photos
See Dr. Eliopoulos' breast surgery before and after results. It is important to look at before and after images to get an idea of what can be achieved with a surgery and to help guide the process with the doctor.
Male Breast Reductions
For men with excess breast tissue, a condition known as gynecomastia, breast surgery can create a firmer, more masculine silhouette. During gynecomastia surgery, skin, fat, and glandular tissue is removed by direct excision or liposuction via incisions made around the edge of the areola, or in the underarm.
For a breast reduction using liposuction only, Dr. Eliopoulos may decide that the SmartLipo MPX laser system is the best treatment option, since it can be performed using only light anesthetic and requires minimal downtime.
Learn More about Breast Surgery
A chest that is shapely, proportionate, and youthful can make anyone feel more confident! To learn more about your breast surgery options at the Chelmsford, Massachusetts Center for Plastic Surgery, contact Dr. Eliopoulos today!