Botox for Men
in Boston
Eliminating Wrinkles Has Never Been Easier
Injectable treatments are an excellent option for patients seeking a dramatic yet non-surgical way to transform their skin. BOTOX and injectable fillers can safely and effectively provide a smooth, youthful appearance with no recovery time necessary.
Results of BOTOX & Fillers
While the procedures are minimally invasive, the results from injectable treatments are dramatic. At Dina Eliopoulos, MD, we offer men in Boston BOTOX, JUVÉDERM fillers (including Juvederm Ultra and Ultra Plus), Vollure, Volbella, Voluma, and RADIESSE to help you achieve smoother, younger-looking skin. Contact us today for more information, or to set up a personal consultation.
Different Types of BOTOX
Video: Botox, Injectables & Fillers
BOTOX is an extremely popular and very effective cosmetic treatment. It is a purified protein that works to temporarily relax facial muscles so they don't contract strongly and accentuate deep expression lines. BOTOX is safe, and Dr. Eliopoulos assures patients they will not end up with a mask-like expression, just a more refreshed look. Injectable fillers are also effective for filling in volume loss and softening wrinkles and folds. Some fillers are best for volumizing and others work on fine lines. A combination of fillers can be used for optimal results.
Enlarge
View All
Youthful skin naturally contains an abundance of collagen and hyaluronic acid. Collagen is a protein that provides skin with structural support and elasticity, while hyaluronic acid acts as a sponge, binding water to hydrate skin, giving it volume. As we age, however, both substances slowly begin to dissipate, allowing for the formation of lines and wrinkles, especially around the nose and mouth. In addition, loss of facial volume can give a hollow, shadowed appearance to the cheek areas. Time, sun exposure, and other environmental factors can contribute to a loss of collagen and hyaluronic acid, which can be treated with injectable fillers.
How does BOTOX work?
As we age, our skin loses tightness and elasticity. When this happens, repetitive muscle contractions cause wrinkles to materialize in the form of frown lines, "crow's feet," and forehead furrows. By blocking the chemicals that cause facial muscles to contract, BOTOX temporarily relaxes these wrinkles to create a smoother, more youthful appearance. The procedure is simple, involving a series of small injections just below the surface skin of the area being treated. No anesthesia is necessary, and there's no post-procedural downtime. Initial redness or swelling disappears in about an hour, and your rejuvenating results should reach full bloom within three to seven days. After treatment with BOTOX Boston patients' results will typically last between three and six months.
For treatment of Hyperhidrosis (excessive sweating)
Embarrassed or frustrated by undesirable underarm sweating? Botox is an FDA approved treatment for hyperhidrosis (excessive sweating) when topical agents fail to control perspiration. Botox injections work by blocking nerve signals to sweat glands resulting in decreased underarm sweating. You will notice a significant reduction in underarm sweating within 4 weeks of your treatment and results should last typically 4-6 months.
What to Expect in a Consultation
Dr. Dina Eliopoulos has nearly 2 decades of experience as a board-certified plastic surgeon, with a reputation for dedication, surgical excellence, and professionalism. The purpose of her consultation is not to "convince you" to undergo a procedure, but to learn about your goals and educate you on your surgical options.
Schedule a Consultation Today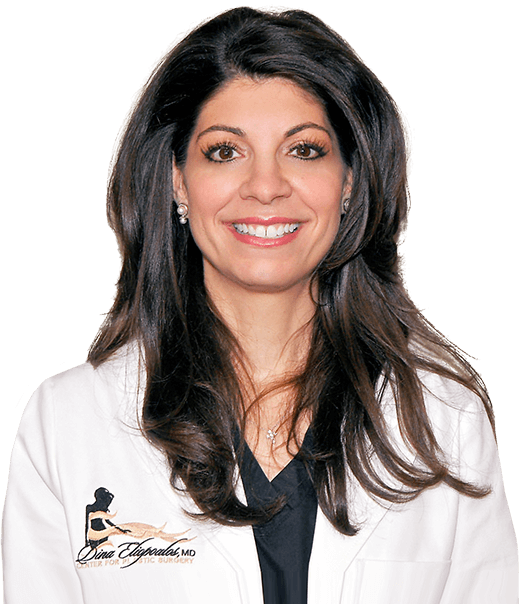 "I have been a patient of Dr. Eliopoulos' and her staff for over two years. The professionalism of the staff is remarkable and I would not consider going anywhere else. If anyone is considering any type of procedures such as Fillers, Botox or Laser treatments it is all done in their office with the highest level of expertise and I would recommend that you make an appointment. You will be so pleased with the treatment you receive." J.N., Age: 68, Lowell, MA
BOTOX and Fillers Before & After Photos
See Dr. Eliopoulos' BOTOX and fillers before and after results. It is important to look at before and after images to get an idea of what can be achieved with a surgery and to help guide the process with the doctor.
JUVÉDERM VOLUMA XC
The aging process is certainly 3-dimensional. Over the years we tend to lose fat in our face, especially in the cheeks. Dr. Eliopoulos also sees this midface volume loss in her patients who are avid exercisers with lean body mass. This volume loss and flattening of the cheek area can give us a more tired, drawn, aged appearance due to the shadowing effect and by contributing to skin excess at the nasolabial folds (lines running from corner of nose to the corner of the mouth) and below the eye area. Patients often say that they feel like their face and skin looks "saggier". Considering cheek augmentation can be a very effective first step to rejuvenate the face and restore a more youthful, natural contour. Cheek augmentation tends to lessen the amount of excess skin in the nasolabial region by augmenting the underlying bony structure and providing a "lifting" effect. Commonly as a result, the nasolabial folds are softened and less volume of filler may be needed to provide full correction in the nasolabial fold if that is desired as well.
Juvederm Voluma XC is the first FDA-approved filler to correct age-related volume loss in the midface. With Voluma, Dr. Eliopoulos can create a smoother contour and a more youthful appearance. Voluma is a hyaluronic acid filler that was created using special technology that contributes to its lift capacity and duration. Voluma has a smooth consistency that allows for a very smooth, natural-looking lift to the midface. In studies, results have lasted up to 2 years when optimal treatments were performed. The treatment is very tolerable because the product comes mixed with numbing medicine and you can see the results immediately!
If you are wondering if Voluma XC is a nice option for you, please call our office for a personal consultation.
JUVÉDERM XC
This injectable dermal filler uses HYLACROSS technology to replace skin's hyaluronic acid, restoring volume while smoothing wrinkles and folds. JUVÉDERM is a gel infused with lidocaine that primarily treats unwanted lines in the nose and mouth areas. When injected into the lips, it provides a plumping, volumizing effect. What distinguishes JUVÉDERM from other hyaluronic acid replacements on the market is the gel's smoother consistency, which delivers natural-looking, long-lasting results. The results achieved with JUVÉDERM can last up to a year.
Injectable treatments at the Chelmsford, Massachusetts Center for Plastic Surgery make it easier than ever to achieve dramatically smoother, younger-looking skin. Set up an appointment today to find out whether BOTOX Cosmetic, injectable fillers, or any of our other skin treatments are right for you.
RADIESSE
Radiesse is made of calcium-hydroxylapatite microspheres, the same mineral composition that is found in bones and teeth. In addition to treating wrinkles and plumping hollowed cheek areas, these microspheres actually serve as a scaffold to support and stimulate the regrowth of your skin's own collagen. The rejuvenating effects of Radiesse are visible immediately, and can last 10 to 14 months.
Learn More about Injectable Treatments
Achieve firmer, younger-looking skin safely and effectively with injectable treatments at the Chelmsford, Massachusetts Center for Plastic Surgery. To set up an individual consultation, or to learn more about these rejuvenating procedures, contact Dr. Eliopoulos today!