Exilis Elite System for Treatment of Skin Tightening and Fat Reduction
Aug 28, 2013 @ 12:28 PM — by Dina Eliopoulos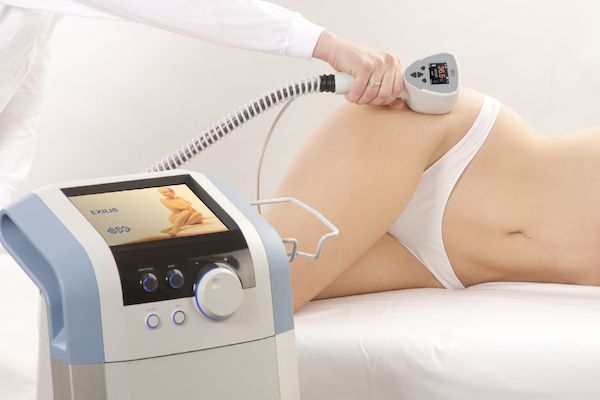 I am excited to start a new blog on a highly effective treatment here at the Chelmsford Center for Plastic Surgery. Now with Exilis Elite™, I can offer my patients a non-invasive way to achieve fat melting and skin tightening!
Since the inception of my practice in 2000, I have always felt that it was important to be able to offer patients not only surgical procedures for facial rejuvenation and body contouring, but also non-invasive treatments. To fulfill this goal, I have been committed from the beginning to provide Advanced Laser and Skin Care as well as Botox and Injectable Facial Fillers to my patients.
Truly, these non-invasive modalities are invaluable and can play so many important roles in a patient's care. Since no single procedure or treatment can "do everything", these non-invasive modalities are a wonderful complement to surgical procedures. They can be used either before or after a surgery to maintain or enhance, or optimize results. They can certainly also be used for patients who are not surgical candidates or who may not be ready or able to consider surgery just yet, or simply just don't need surgery just yet.
Before bringing any new treatment modality into my practice I always have strived to ensure that the treatments are not only highly effective, but also safe. In an effort to always provide exceptional care, I have always tried to seek out the best state-of-the-art medical device available. Several years ago, I knew that I wanted to be able to also offer my patients an effective non-invasive way to tighten skin and reduce fat. I felt that this was an area that so many of my patients were interested in. It seemed like countless numbers of my patients were loving their results from Botox and Injectable Fillers and Skin Care here in the office, but still wanted to do more to improve a little sagging along the jaw line or some looseness of skin in the neck area, or signs of aging around the brows and eyes… but were not ready or able to consider surgical options. So I began investigating and trialing different medical devices.
Similarly, while liposuction remains the gold standard for fat removal, many of my patients were interested in a way to reduce areas of fat without undergoing a surgical procedure and the down time or activity restrictions associated with it, whether it be traditional liposuction under general anesthesia in the Operating Room, or Smartlipo Laser Assisted Liposuction performed in my office under local anesthesia.
I continued to attend educational meetings sponsored by the American Society of Plastic Surgeons (ASPS), the American Society for Aesthetic Plastic Surgery (ASAPS), and the American Society for Laser Medicine and Surgery (ASLMS), all of which I belong. I talked with colleagues about their experience with these devices, and observed as the technology continued to improve. After much investigation I was eager to bring Exilis Elite™ into my practice.
This advanced non-invasive aesthetic system uses the technology of monopolar radiofrequency (RF) to deliver heat into the fatty tissue layer. This thermal energy causes disruption and destruction of the fat cells which "empty their contents" and are then eliminated by the body over a short period of time. This has the end result of fat reduction of the treated area. This heat energy can be directed at different depths to best target an area of fat depending on the thickness of this fatty tissue layer. This thermal energy can also be directed more superficially to the skin to target collagen, resulting in collagen remodeling which can result in skin tightening, wrinkle reduction, and anti-aging effects.
Some features of the Exilis Elite™ that I love are:
The extreme safety of the treatment
High patient satisfaction with acceptable consistency of results
The advanced technology of this device allows the delivery of high energy safely and effectively without compromising patient comfort or safety, allowing for fewer treatments
The treatments are extremely tolerable feeling like a hot massage, so no sedation or anesthesia is required
There is no down time and no need for surgical garments or activity restrictions
Can be used on patients of all ages and skin colors, and most body parts
Is affordable… to name just a few
Can you tell I'm excited about this treatment!
Please stay tuned.
We hope to continue to update our blog with more information on our Exilis Elite™ System!
Sincerely,
Dr. Dina Eliopoulos