The Pros and Cons of "Going Big" with Large Breast Implants
Jul 7, 2014 @ 11:57 AM — by Dina Eliopoulos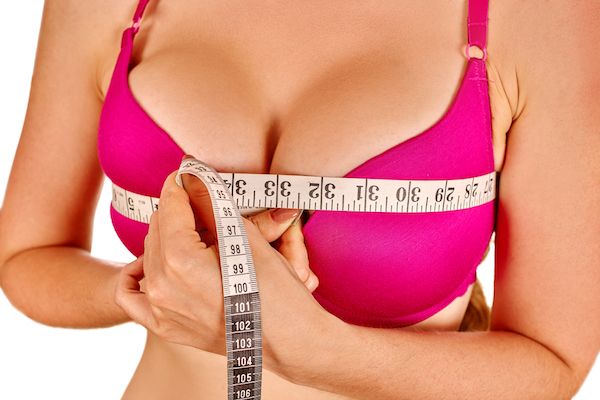 One of the chief benefits of breast surgery with implants is that it allows women to have a significant measure of control over the final results. Patients can choose the size, shape, and texture of their implants, as well as how and where the implants are placed. With each decision a woman makes regarding her breast augmentation, she further customizes the surgery and helps to ensure that she will be pleased with her results.
When many people think of breast augmentation, they automatically think in terms of the size of the implants. Contrary to what many may believe, breast implants come in a variety of sizes, and quite a number of women actually prefer a relatively modest and more subtle enlargement. However, other women do want to "go big," achieving the full, shapely bust line that is often associated with breast augmentation.
At the Chelmsford plastic surgery practice of Dina Eliopoulos, MD, large breast implants have helped many women achieve the voluptuous figures of their dreams. Of course, there are both pros and cons to undergoing breast augmentation with large implants, which Dr. Eliopoulos discusses at length with patients during their initial consultations. Although she will always advise patients openly and honestly of their options, the ultimate choice of implant size is up to the individual. As long as the procedure can be performed safely, Dr. Eliopoulos wants patients to be fully satisfied with their breast augmentation results.
The Pros of Large Breast Implants
Women who elect to have large breast implants placed enjoy many possible benefits, including:
An improved self-image: Many patients emerge from surgery feeling more feminine and attractive due to their new figures.
More harmonious contours: Some women with smaller breasts feel that their bust line is not in harmony with the rest of their bodies. Larger breast implants can bring the breasts into improved proportion with the rest of such patients' contours.
Different clothing choices: Women with smaller breasts may wish to wear clothing designed for women with larger breasts. Large breast implants can make this a possibility.
Increased confidence: When a woman looks as she desires to look, she often feels more confident and self-assured. Some women crave the positive attention paid to women with larger breasts and feel sexier once they, too, have such breasts.
Cons of Large Breast Implants
Some women do not realize that having large breast implants, especially ones that are disproportionate to a woman's frame, can introduce some drawbacks, including:
Possible back and shoulder pain: One of the reasons that breast reduction has become such a popular procedure is that larger breasts can be quite heavy, causing back pain, bra strap indentations, and a variety of other aches and pains.
Overestimation of size: Some women are excited about the prospect of having large breasts and they overestimate the size of implant they want prior to surgery. Many of our breast implant revision surgeries involve replacing large breast implants with smaller implants because patients discover that they look less natural with the former.
Greater likelihood of sagging: One of the advantages of having smaller breasts is that they are less likely to sag significantly over time. Women who undergo surgery with large implants are more likely to experience such sagging as the skin supporting the implants loses its natural elasticity.
Slightly increased risk of complications: Especially among women who are going from having very small breasts to relatively large breasts, there is a greater (albeit still minimal) risk of post-surgical complications such as rupture and numbness.
Learn More about the Pros and Cons of Large Breast Implants
To learn more about the pros and cons of large breast implants, please contact the Center for Plastic Surgery, where board-certified plastic surgeon Dr. Dina Eliopoulos delivers surgical excellence and professionalism.