May is the perfect month to learn about a Mommy Makeover with Dr. Eliopoulos
May 1, 2018 @ 4:00 PM — by Dina Eliopoulos
May is here and this always reminds me of Mother's Day! So, in this month's Newsletter I want to celebrate all mothers who give so much of themselves to their families and loved ones. I have the blessings of having an amazing mother and of being a mother myself. I like to think motherhood is the personal accomplishment I'm most proud of, and probably the most challenging as well! I also have the privilege of taking care of so many mothers who are my patients. These women continue to inspire me as they juggle raising their children, some also caring for their own aging parents, and working in and out of the home often balancing family and careers.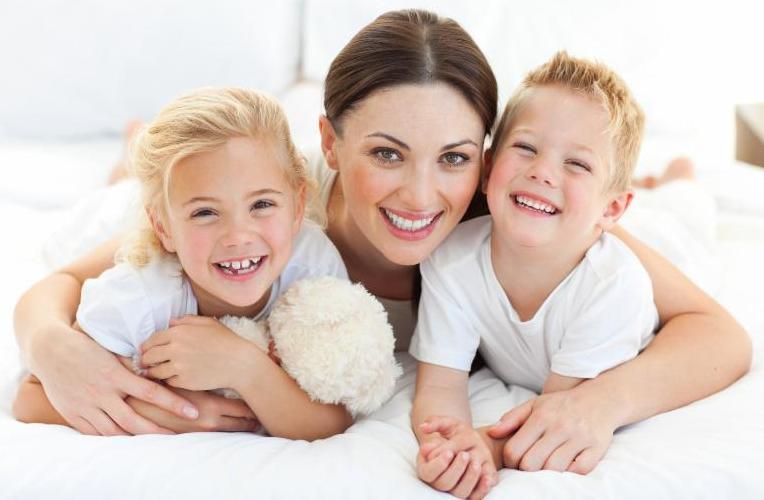 Yet while childbearing is an awesome blessing, one that we would never trade, for many of us it can also result in changes in our bodies that can be difficult to reverse. For some, this can be a source of distress affecting our confidence and how we feel about ourselves and live our lives. Often the hormonal changes occurring with pregnancy cause weight gain with new deposits of fat that may be difficult to target. The abdominal area certainly bears the brunt of carrying those little bundles of joy. Not only can we develop stretch marks and loose excess skin in the tummy area, but also the two rectus abdominal muscles running vertically along each side of the midline of our abdomen can become more stretched apart resulting in a bulging appearance of the abdomen. Our breasts can also change dramatically from the fluctuations of size that occurs during and post pregnancy with sagging and stretching of skin, deflation and loss of breast volume and firmness, and changes in nipple areolas that have enlarged and may be now "heading south". Others may experience more fullness than they used to have along with sagging. Lax vaginal muscles can also be distressing. Every woman is different and therefore every woman's body will respond a bit differently to each pregnancy. Certainly, healthy eating and exercising are important first steps as you give your body some time to lose that baby weight and stabilize. But if this is not enough to restore your pre-pregnancy shape, do not give up hope, plastic surgery may be an option.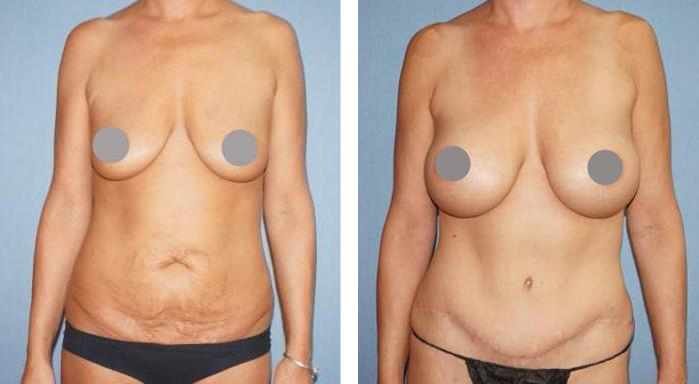 Patient of Dr. Eliopoulos Before & After, Breast Augmentation & Tummy Tuck
A Mommy Makeover has become a trending description of a combination of plastic surgery procedures that are highly customized to a woman's needs and desires. These procedures can create such transformational changes bringing harmony and proportion back to the breast and body after pregnancy while restoring and renewing self-confidence. For these reasons, Mommy Makeovers are one of my favorite procedures to perform. I love seeing patients' reactions to their new shapes, even in the early post op days when they are not yet fully recovered! Commonly with a Mommy Makeover, I may combine a tummy tuck or mini-tummy tuck, with some liposuction of the hips for example, and breast restoration with breast augmentation with or without breast lift, or possible breast lift alone if volume is sufficient. Depending on the procedures needed, a Mommy Makeover may be performed in a single stage or spread out in a staged fashion. I will guide patients always keeping safety as a priority. Patients often prefer the idea of combining procedures when safe to do so to minimize down time and time out of work and are often pleasantly surprised that recuperation may not be as involved as they expected.
Mothers are so used to putting their family's needs before their own, so it's often difficult for them to focus on their own needs. Sometimes the biggest hurdle is taking the first step to learn what their options are. So, if you are unhappy with changes in your breast and body after pregnancy and wonder if you are a candidate for a Mommy Makeover in Chelmsford or Boston, please call us. Honestly, speaking for my entire team, we love guiding mothers on this journey and participating in their transformation. Moms deserve it and maybe need a little bit of mothering themselves!