Mommy Makeover Procedures
Jul 23, 2012 @ 12:29 PM — by Dina Eliopoulos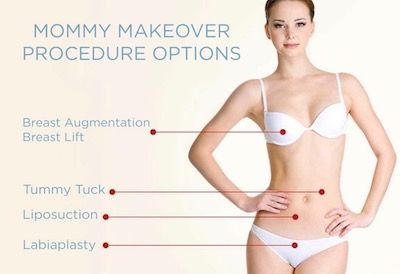 Motherhood is a unique and rewarding experience. Just like motherhood, childbearing is an event that changes a mother in lasting ways, often as a result of the strains of pregnancy and birth. Some physical changes can't be fixed with exercise, such as excess skin or undesired contours as a result of breastfeeding; these changes in the appearance of the body can result in unwanted body aesthetics and lowered confidence.
Our mommy makeover procedures are designed to restore a mother's body to its pre-pregnancy shape, and enhance individual features. Since pregnancy and delivery can affect each mother's body in many different ways, every mommy makeover is customized to match the patient's needs. Dr. Dina Eliopoulos and the skilled staff at our Chelmsford plastic surgery center will consult patients about their specific areas of concern and include the appropriate body contour procedures in patients' treatment plans.
Most Popular Mommy Makeover Procedures
At the Center for Plastic Surgery, we offer a wide variety of surgeries that can be of great restorative help to new mothers looking to restore their appearance. The majority of mommy makeovers include a breast lift and tummy-tuck; a consultation with our staff will help determine which procedures are best for you. Procedures frequently included with mommy makeovers include:
Breast Lift(mastopexy): A breast lift is a procedure that tightens the tissue of the breast and results in a firmer, smoother contour. This treatment helps reverse the effect of loosened tissue that pregnancy and breastfeeding can have on a recent mother. A breast lift is often combined with either a breast reduction or enhancement, depending upon the patient's wish for fuller or smaller breasts.
Breast Enhancement
Breast Reduction
Tummy Tuck (abdominoplasty): During tummy tuck surgery, surgeons sculpt the abdomen, remove excessive skin, and restore stomach muscle tension. A tummy tuck is often paired with liposuction, and is among the most popular cosmetic surgery procedures performed in the US. Dr. Eliopoulos features state-of-the-art SmartLipo laser-assisted liposuction for our Chelmsford tummy tuck. This cutting edge technology ensures an experience that is less painful and has a shorter recovery period.
Liposuction (including SmartLipo)
Body Lifts, including Buttock Lift, Thigh Lift, and Arm Lift: Various body lifts procedures (buttock, thigh, arm lift) may be a good option for removing excess skin or renewing loosened skin's elasticity. Pregnancy affects every woman's body in different ways, so a consultation with our staff is the best way to decide which body lifts are right for you.
Facial Surgery, including Facelifts and Eyelid Surgery: The stress and strain of pregnancy can sometimes show on a mother's face in the form of sagging skin, wrinkles, or puffy lower eyelids. We offer many options for mothers looking to rejuvenate their facial appearance. A facelift can renew the contours of the face, including the mid-face, jaw line and neck.
BOTOX Cosmetic: BOTOX Cosmetics a fast, simple treatment that can erase small wrinkles from the face.
Learn More about Mommy Makeovers
If you'd like more information about how Boston plastic surgeon Dr. Eliopoulos can help to restore your appearance and reshape your silhouette with a mommy makeover, please contact our Chelmsford plastic surgery center.