5 IPL Photofacial Benefits that My Patients Rave About
September 1st, 2022 — by Dina Eliopoulos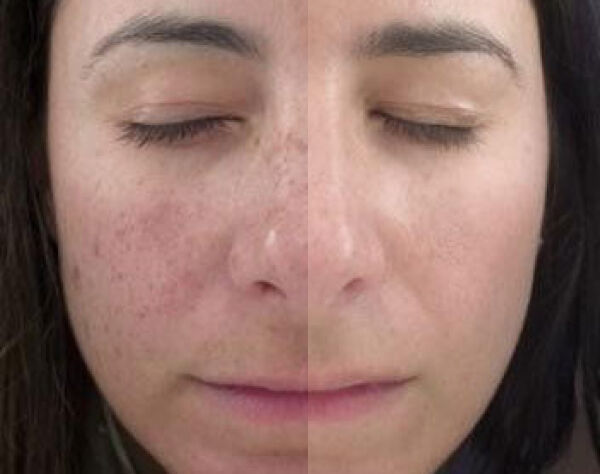 Coming off summer vacation, many of my patients find that they're ready to address some of the facial imperfections created or exacerbated by an increase in sun exposure, such as sun spots or 'brown spots.' While makeup can help cover minor sun damage, some medspa treatments, specifically an Intense Pulsed Light (IPL) photofacial, provides patients with a deep level of skin rejuvenation to help them enjoy a more evenly toned complexion, with or without makeup.
With minimal downtime and no prolonged recovery, an IPL photofacial is one of the most effective treatments for achieving a more even skin tone and improving the appearance of pores and fine lines.
What is the IPL Photofacial and When Should I Get It?
The term photofacial is derived from two Greek words, phōs (light) and facialis (of the face). Combined, the term photofacial refers to a skin care treatment that uses light energy to address skin concerns on the face. Intense Pulsed Light (IPL) photofacial treatments use a broad spectrum of therapeutic light to restore skin from the inside out.
During an IPL photofacial treatment, Optimized Light technology emits a range of lightwaves that target melanin pigment or hemoglobin in the blood vessels that appear as visible dark spots, such as sun damage. Once the light reaches its target, it's transformed into heat energy that's absorbed by broken capillaries, dark pigment, and larger vessels.
The best time to receive an IPL photofacial treatment is in the fall, winter, and spring months, long after your skin is free of sun exposure (and your summer tan). IPL technology targets melanin pigment in the skin and sun exposure can enhance melanin production. Likewise, your skin is more sun sensitive as it recovers from an IPL photofacial, so it's much safer to receive treatments in the fall and winter months when there is less of a chance of sun exposure.
What Skin Conditions Does an IPL Photofacial Treat?
IPL photofacial treatment benefits both men and women of all ages, and it addresses the following skin conditions (plus others!):
Age spots
Facial spider veins
Premature aging
Sun damage
Red spots
Rosacea
An IPL photofacial can also treat the appearance of discoloration on any part of the body, including the face, chest, arms, hands, legs, and back, often a telltale signs of aging. Optimized Light technology can help even out your skin tone and reduce hyperpigmentation for skin that's glowing from head to toe. Bear in mind that patients with a naturally darker complexion should book an initial consultation to confirm that IPL is suited for their skin tone or if other treatment options would be better to address pigmentation concerns.
IPL Benefits You Can Expect
While each person's skin is different and results vary for each patient, overall, you can consider these five IPL photofacial benefits that my patients rave about:
1. Treats stubborn skin issues
IPL photofacials benefit those with persistent blemishes, from stubborn acne scarring and rosacea to sun damage and visible capillaries.
2. Corrects signs of premature aging
Long-term exposure to sun can be the enemy of healthy, youthful skin. IPL photofacial treatments address sun damage and age spots that have the potential to worsen through the years with additional exposure to environmental agents.
3. Little downtime big impact
IPL photofacials allow patients to resume normal activity, wear makeup immediately (the next day) and can start seeing noticeable results in just a few weeks.
4. Quick appointments with long-term results
Typically, we can complete an IPL photofacial between 30 minutes – 60 minutes, reducing the visible signs of wear and tear on your skin, but the timing depends on what area we are treating.
5. Complements other medspa treatments
An IPL photofacial complements other medspa treatments in general that improve skin texture, the appearance if wrinkles and skin tightness. Our providers can guide you on how to incorporate an IPL photofacial into your individualized treatment plans to maximize the results.
Most commonly we combine this treatment with our 1540 laser – what we call ThreeForMe™. ThreeForMe is a next-generation combo laser and light based facial rejuvenation treatment that can help restore that glow to your skin by quickly and efficiently targeting your three big skin concerns-hence the name.
How to Maintain IPL Photofacial Results
Like any skincare treatment, consistency is key for IPL photofacial benefits. Generally, we recommend a periodic maintenance treatment, usually every 6-12 months, after completing your initial series. Through maintenance treatments we can address the impact of your ongoing sun exposure, natural aging, etc.
After your initial treatment, my patient coordinator will schedule your follow-up appointments, which are four to six weeks apart to ensure gradual improvement with very low risk. Each follow up appointment is scheduled to build upon the corrections of your previous treatment.
During your first appointment, we will also walk you through the customized skincare regimen recommended for your individual skin type, condition and budget. Most likely your skincare routine will include a skin lightening product and most definitely an everyday sunscreen.
Next Steps for Your IPL Photofacial Treatment
Schedule an initial consultation at The Center for Plastic Surgery in Chelmsford, MA, during which we'll evaluate your skin conditions and recommend the right treatments for your unique skin tone and type. Contact us today to learn more about our IPL photofacial treatments for glowing, vibrant skin.