9 Skin Care Treatments for Every Age Group
Recommended by a Boston Board-Certified Plastic Surgeon
February 27th, 2023 — by Dina Eliopoulos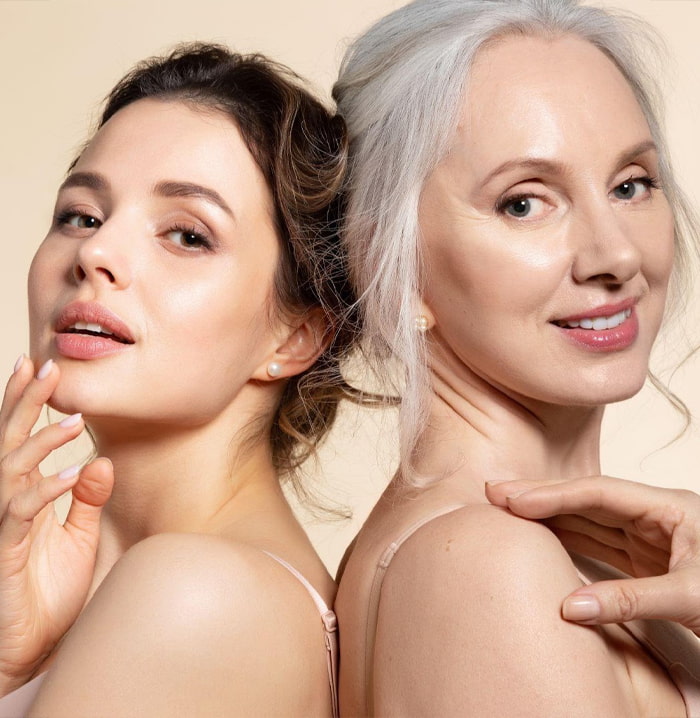 Throughout life, your skin is constantly changing. Whether it's skin tone, laxity, or discoloration from photodamage from years spent in the sun, you can expect your skin to be a reflection of your lifestyle, age, and habits. As a Boston Board-certified plastic surgeon, I want every patient to look at their reflection and see all the things they love — not pinpoint problems with their skin health that have lingered for months, years, or even decades.
No matter your age, non-invasive, nonsurgical skin care treatments can enhance your natural beauty and elevate your skin health. Whether you're a teenager tackling stubborn acne and oily skin or a forty-something fighting rosacea and dull skin, you've come to the right place for guidance.
Factors That Impact Skin Health at Each Age
From the moment you are born, dozens of factors impact your skin health. For instance, depending on your ethnicity, genetic makeup, or hormonal issues, you may be more prone to pigmentation issues, rosacea, or acne. On the other hand, daily habits like your regular water intake and sleep schedule also contribute to premature aging, dull skin, and dehydrated skin. The best strategy at any age is to remain proactive and consistent with skin care treatments.
It's no secret that I firmly believe in the power of quality skin care treatments and products. I started to really take care of my skin in my early 30s, as I completed my advanced residency training in Aesthetic Plastic Surgery and became exposed to advanced laser and skin care treatments. I knew I would incorporate them into my own practice when I established The Center for Plastic Surgery in 2000, and now here we are!
Targeted Skin Recommendations for Every Age Group
The skin is your body's largest organ, and as such, it deserves special attention at every age. And while I believe it's never too soon to start, it's also never too late! The key to effective skin care treatments is to maintain consistency. Here are my skin care recommendations for every age group.
Teens: Develop Healthy Habits
The primary goal of teenage skin care treatments is to develop the right skin habits. This is the time to build a basic skincare routine, starting with a quality cleanser, moisturizer, and sunblock. Sometimes these simple steps help to manage acne. But for more stubborn acne and acne scarring, some additional treatments may help, including DiamondGlow dermal infusions, chemical peels, and even Morpheus8.
20's: Keep it Simple
As we enter our 20s, it's important to continue with skin care treatments that are easy to maintain. Whether it's a simple skin care regimen or scheduled trips to The Center for Plastic Surgery for specific medspa treatments, this is the time to ensure your routine can remain consistent. Preventative maintenance in your 20s includes treatments that can stave off the need for more as you age, such as Botox and dermal fillers.
30's: Begin Building Collagen
Natural collagen production begins to decline in our early 20s and will continue to decrease by about 1% each year. As you approach your 30s, it's time to focus on collagen building to improve skin elasticity. I love Morpheus8 (radiofrequency-assisted microneedling) for this. Also, as we get a bit older, our skin may show more signs of sun damage, like hyperpigmentation or a ruddy red complexion. IPL photorejuvenation is a very effective treatment for this. If you have other skin concerns, now is the perfect time to start addressing them with easy in-office treatments. Also, with each decade, you may want to step up your home skin regimen by adding in some antioxidants and light retinols.
40's: Remain Consistent
Once you turn 40, work with your plastic surgeon and her aesthetic team to continue with collagen building. Augment your skin regimen to target your concerns and maintain healthy skin to combat the ongoing aging process. Keep up with your periodic skin treatments as part of your beauty maintenance.
50's & Beyond: Stall Surgery
If you maintain skin care treatments at 50 and beyond, you may be able to stall or even avoid surgical options. Plus, if you develop healthy skin care habits early on, you will not be overwhelmed as you add a few extra steps with each decade. So invest in yourself — you'll be glad you did!
Nonsurgical Skin Care Treatments for All Ages
Here at The Center for Plastic Surgery, we provide nonsurgical skin care treatments to address various aesthetic concerns at every age. Take a look at the nine skin care treatments I recommend to enhance skin health and boost self-confidence, no matter your age or gender.
Morpheus8
Morpheus8 improves skin texture and tone with the added benefit of collagen building, so you wake up naturally refreshed. A combination of microneedling collagen induction therapy and radiofrequency (RF) energy, it's ideal for anyone aged teens and up to address fine lines, skin laxity, acne, and acne scarring.
Botox
Botox is by far one of the most popular skin care treatments among men and women ages 20 and up to reduce the signs of aging without the use of makeup. To slow the onset of pesky wrinkles while still looking natural and animated, Botox injectables are an effective, non-surgical treatment.
Laser Hair Removal
Laser hair removal is the gift that keeps on giving for any age group and gender! Say goodbye to shaving, ingrown hairs, and stubble, and hello to smooth, soft skin all year round.
Chemical Peels
At The Center for Plastic Surgery, our customized chemical peel formulations help to rejuvenate your complexion. We will recommend the appropriate peel for each patient's specific needs and skin types, meaning we can address everything from acne to age spots for patients of any age.
Dermal Fillers
As we age, we lose fat in our face and also lose collagen, which can lead to folds, wrinkles, and hollowing, which makeup cannot hide. Dermal fillers are a popular nonsurgical skin care treatment in which a gel-like solution (ex. Hyaluronic Acid) is injected into the skin at varying depths to enhance areas of volume loss and wrinkles. As a type of dermal filler, Juvéderm and Restylane use a hyaluronic acid formulation — just like what your body produces naturally — to add volume to your lips without over-filling or over-plumping. Targeted toward those with thin or aging lips, I'd recommend Juvéderm to patients ages 20 and up.
Patients ages 30 and up may seek dermal fillers for a more youthful appearance or even to enhance their features, such as lip augmentation.
Dermal Infusion
The DiamondGlow DermalInfusion is an advanced skin resurfacing treatment that combines exfoliation and extraction and simultaneously infuses a serum to improve skin health and complexion. It's the perfect choice for teens and up to renew the outermost layer of the skin.
IPL Photofacial
Short for Intense Pulsed Light, an IPL photofacial treatment is a safe, non-invasive method to reduce red and brown pigmentation in the skin, so anyone can spend less time trying to camouflage the skin with foundation. It's ideal to even out skin tone and texture without applying makeup daily.
Daily Tips to Enhance Your Natural Beauty At Home
While Boston Board-certified plastic surgeon-recommended non-invasive skin care treatments can help every age group enhance their skin health, there are several choices we can make at home to enhance natural beauty. In addition to a disciplined at-home skincare routine, follow these tips:
Why Choose an Expert for Skin Care Treatments?
Proper experience dealing with different skin types at various ages is a must when it comes to skin care treatments. At The Center for Plastic Surgery, our team of Registered Nurses, Certified Nurse Practitioners, Certified Nurse Injectors, and Master Estheticians, and I practice the latest in aesthetics to ensure every patient has access to a customized treatment plan tailored to their unique skin concerns.
Your skin is always evolving, not only with each season but also with each decade of life. No skin care treatment is a one size fits all procedure. Schedule a consultation with a board-certified Boston and Chelmsford Plastic Surgeon for a customized skin care and treatment plan to achieve your dream skin at any age.